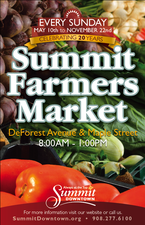 Summit Downtown Inc. has announced that due to frequent requests from both market vendors and loyal market customers, the Summit Farmers Market will begin its season earlier than ever this year.  Opening day will be this Sunday April 17, from 8:00AM until 1:00PM.  The market closes for the season on Sunday, November 20.
A majority of last year's vendors will be returning to the market this year, with a few exciting new additions. A full listing of vendors will be available on summitfarmersmarket.com.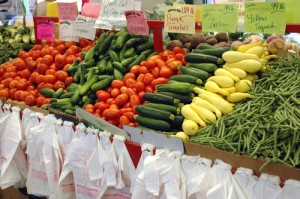 Widely regarded as one of the area's best farmers markets, this will be the market's 21st year of providing fresh, locally-sourced food and produce to the Summit community.
The Farmers Market also gives back to the community.  The Give It Fresh Today (G.I.F.T.) program celebrates its 5th season at the market and will continue to collect fresh food each week to donate to those in need.  Food is collected from vendors and customers alike, and then donated to those in need.  Last year more than 6,800 total pounds of fresh food was collected and donated to St. Teresa of Avila and St. Ann's Food Kitchen.
The Market is located at DeForest Avenue and Maple Street  in the Park & Shop Lot #2.  More information for customers and vendors can be found at summitdowntown.org.