The Annual Turkey Drive at the Summit Diner – and now Turkey Ride –  have become a town-wide event!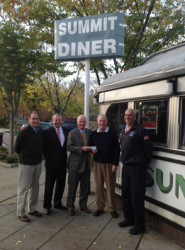 Summit's Other Fellow First Foundation started just 15 years ago and was created out of the recognition that "every once in a while, the less fortunate need a helping hand." The foundation started by John Anastos, Jim Greberis and Brett Haire, funds organizations that assist New Jersey families in distress, as well as supporting organizations like the Community Food Bank of New Jersey, the New Jersey Community Foundation, Summit Area Public Foundation and Family Promise.
The foundation has chosen the iconic Summit Diner as it's symbol stating "Its honest simplicity and cozy atmosphere make it a great metaphor for a foundation with our mission, operating in the most densely populated state in the country."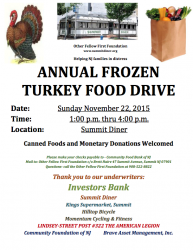 The organization modestly refers to itself as a "tiny Summit charity" but their fundraising, and support of the community, shows a much bigger impact! The Other Fellow First Foundation co-chaired the Capital Campaign for the Summit Volunteer First Aid Squad and helped raise $5,000,000 for their new facility. They provide emergency funding for Hilltopper families in distress, providing $325,000 in emergency family funding! They have made gifts to the Overlook Hospital Foundation, Summit Supports Our Troops, St. John's Soup Kitchen, Ship and many, many more.
This Sunday, November 22, the foundation will be running its 8th Annual Turkey Drive to benefit the Community Foods Bank of New Jersey. Frozen turkeys will be collected at the Summit diner and distributed to families in need for Thanksgiving.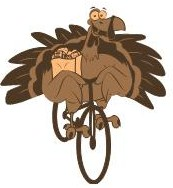 This year also marks the 2nd Annual Summit Turkey Ride to benefit the food bank.  This is a 12-mile bicycle ride that will stop at the Summit Kings Supermarket where each participant purchases a frozen turkey and carries it in their backpack. The turkeys are dropped off at the Community Food Bank truck outside the Summit Diner.
So stop by the Summit Diner on November 22 and drop off your frozen turkey and be part of the Hilltopper community that puts the "Other Fellow First."
Details:
To find out more about the Turkey Drive, as well as the Other Fellow First Foundation and it's work go to http://www.summitdiner.org/
8th Annual Turkey Drive
Sunday, November 22, 1:00PM – 4:00PM
Summit Dinner, 1 Union Place, Summit
Bring frozen turkeys, canned goods, and monetary donations!
2nd Annual Summit Turkey Ride
Sunday, November  22,  9:30AM bagels, 10:00AM
Hilltop Bicycles, 314 Springfield Ave, Summit
Riders must be 18 or older and must bring helmet, $20 for turkey, identification, cell phone, backpack, and bicycle.
2015 Turkey Ride Route is 12 miles.  For a preview, click HERE
Indoor Summit Turkey Ride – Momentum Cycling and Fitness,  33 Union Pl, 3rd floor, Summit will be hosting a special free 10:30AM Turkey Ride spin class for those who would like to participate indoors.  Registration is limited.  To register click HERE