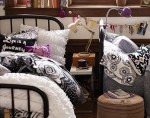 Dorm rooms are small, so students need to make the space as efficient and organized as possible. Although dorm rooms are usually associated with cinder blocks and old scratched-up furniture, they have as much potential for coolness as any other small space.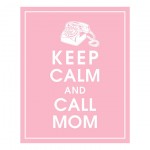 College is THE time to go crazy with your room decorations. Once you're living in the adult world, it will no longer be as acceptable to have a hot-pink bed, purple mini fridge, and strings of Christmas lights hanging everywhere in your apartment. For now, feel free to express your personality in your room – you can go for the "adult" look later!
Organize Your Space
Customize your closet to effectively use space. Create extra wardrobe space for things that won't fit into small dorm room closets.  Use storage bins that can be placed beneath your bed to save space. Try The Little Black Dress, a stylish way to store earrings, necklaces and bracelets. This two-sided organizer hangs on a rod or hook to maximize space and swivels so you can see the jewelry collection easily, with clear pockets on one side and hanging loops on the other. $19.99
Buy Pieces That Are Multifunctional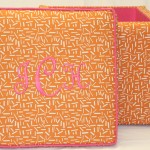 Invest in furniture that serves more than one purpose. An ottoman can give you seating and storage in one piece (like the one from Dorm Suite Dorm, $150 can be monogrammed),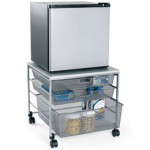 while a trunk can also function as a table. Use a file cabinet (like this one from IKEA – $99) as a side table that holds papers and pencils and offers space for a reading lamp. This fridge cart from Container Store makes the perfect accessory for your mini refrigerator in the dorm. The tight mesh and closed corners of the drawers prevent smaller items from falling through without the use of drawer liners or trays. $129.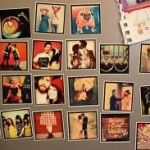 Create a Home Away From Home
Whether your dorm is far from home or just around the corner, you want a space that's comforting. Buy textiles in graphic patterns and colors to make your space feel personal and cozy. Pottery Barn has an entire site dedicated to PBdorm which includes twin XL sheet sets (because you want your sheets to fit the dorm beds). Bring your friends or family with you on a customized Ink Garden Photo Pillow Case – $19.99 and customize your mini fridge with magnets from your Instagrams at Stickygram.com – $14.99 for 9 magnets.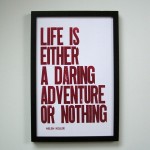 Make a Personal Statement With Art
Dorm rooms lack architecture and detail, so add some of your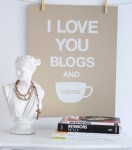 own by framing your favorite prints. Shop sites like Etsy for fun and motivational prints like the letterpress prints from Happy Deliveries , a customized home state piece from Lucius Art, or a statement piece (I love you blogs and coffee) from MadeByGirl. Contemporary artwork can also be a great way to add life to an otherwise boring space. If the artwork isn't too heavy, try 3M Command Picture Hanging Strips. They don't damage the wall when removing. Make sure to clean the wall before sticking them on it.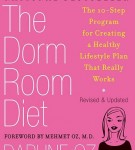 Practicalities
Expensive stuff and college dorms do not go together. If you are worried about certain personal items, you might want to look into a Dorm Vault.
The Dorm Room Diet is a guide to help college students avoid the dreaded 'Freshmen 15′ by learning healthy eating habits and avoiding the common pitfalls and challenges associated with college life – such as late night studying and parties.