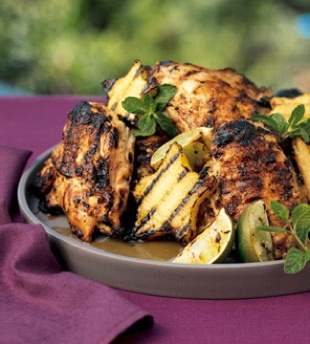 bonappetit.com

Citrusy and savory all in one bite. Bringing a little bit of the ever-so-popular Cuban Mojito cocktail to dinner. The rum "cooks" off so the chicken is family friendly… serving up grilled slices of pineapple completes the dish with a bit of sweet. The combo satiates every part of your palate.

Size:

6 servings



Ingredients:
3/4 cup fresh lime juice
1/2 cup plus 2 tbsp light rum
1/2 cup finely chopped fresh mint
6 tbsp mint syrup**
1 tbsp vegetable oil
1 tbsp coarse kosher salt
6 chicken breast halves with skin and bones (about 5 lbs) (I've also used boneless...)
3 large limes, quartered lengthwise
Fresh mint sprigs
Pineapple slices (optional)



Directions:




Whisk lime juice, 1/2 cup rum, and next 4 ingredients in bowl. Place chicken in resealable plastic bag. Pour marinade over; seal bag. Turn bag to distribute marinade. Chill 4 hours, turning bag twice.

Place lime quarters in shallow bowl. Pour remaining 2 tablespoons rum over, tossing to coat. Let stand at room temperature.

Prepare barbecue (medium heat). Grill chicken until soft and slightly charred, about 5 minutes. Garnish platter with mint sprigs. Squeeze grilled limes over chicken and serve.

** Mint syrup is often shelved with the coffee and tea at the supermarket.