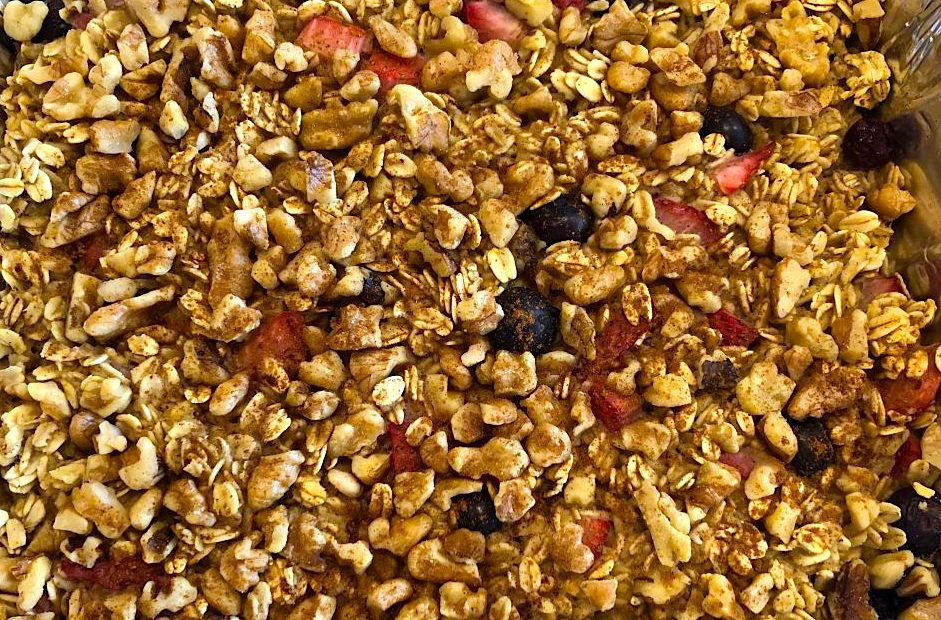 I came across this recipe the other day but had to make a few changes. It's a delicious, healthy snack or breakfast and you can make ahead and freeze in single portions if you like. My kids love it as well. I made a few of them to give to people under the weather.
Ingredients:
1 cup mashed banana (I threw them in my vita mixer)
2 eggs
1 1/2 cups unsweetened almond milk or grass fed milk if allergic to nuts
2 tablespoons melted and cooled coconut oil
1 tsp vanilla
2 1/2 cups old fashioned gluten free oats
1 tsp baking powder
1 tablespoon ground flax seed
1 tsp cinnamon
1/4 tsp sea salt
3/4 cup diced strawberries
1/2 cup blueberries
1/3 cup dark chocolate chips optional
Unsweetened almond or peanut butter
all natural maple syrup


Directions:
Preheat over to 350 degrees. Spray a 9×9 pan with coconut oil. In a large bowl mix together mashed banana, eggs, almond milk, coconut oil, and vanilla until mostly smooth. Next add ground flax, oats, baking powder, cinnamon, and salt until well combined. Gently fold in strawberries and blueberries. (and choc. chips if you are added them). Pour mixture into prepared pan and sprinkle with more cinnamon.  Bake for 30-35 minutes until edges become slightly golden. Serve warm with a spoonful of almond butter and a tsp of maple syrup mixed into the almond butter.
As I said above, if you have a nut allergy in the family you can sub with grass-fed milk. I also add the dark chocolate chips for my kids. I make mine without.
You can also sprinkle walnuts on top if you prefer.