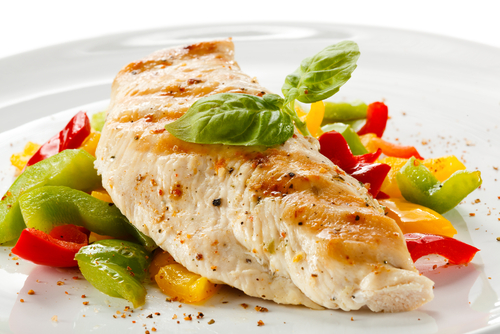 This is a fantastic dinner to make for a crowd or a dinner that will have leftovers for the next night. I had many people try it and they all loved it and asked for the recipe. It is very healthy as well. I served it over brown rice. It was very easy to make. Squeezing the fresh lime juice and cutting up the peppers is the hardest part.

Size:

4



Ingredients:
1/2 cup freshly squeezed lime juice (or juice of 2 limes)
1/4 cup fresh chopped parsley
2 tablespoons olive oil
2 tablespoons water
1 tablespoon minced garlic (or 4 crushed garlic cloves)-I buy the frozen in cubes
1 teaspoon red chilli flakes (adjust to your preference of spice)
1 teaspoon ground Cumin
1 teaspoons salt
1 tablespoon honey
4 salmon fillets (wild caught if possible) or 4 chicken breasts
1 red bell pepper (capsicum), deseeded and chopped
1 green bell pepper (capsicum), deseeded and chopped
1 yellow bell pepper (capsicum), deseeded and chopped
1 red onion chopped into wedges



Directions:



Preheat oven to grill/broil settings on high heat. Spray a baking sheet tray with cooking oil spray; set aside.

Whisk lime juice, parsley, olive oil, water, garlic, chilli flakes, cumin, salt and parsley together to combine. Add the honey and whisk again until the honey runs smooth through the rest of the ingredients. Place the peppers and onion in a single layer on the prepared baking tray; and pour over 1/4 of the marinade. Toss peppers and onion to coat; and bake in oven at 400 for 15 minutes. At the same time place the chicken/salmon in a ziploc bag and pour the rest of the marinade in the bag. After you have precooked the peppers and onions place the chicken and/or salmon on top of the peppers and cook again. The salmon takes about 10 minutes and the chicken around 20-25 depending on thickness. I used medium thickness. When I make it I double or more and line the chicken and salmon across the whole sheet pan over the veggies.

Remove from the oven and serve immediately with lime wedges and remaining marinade for added flavor. (If the peppers are not done to your liking, simply transfer the salmon to a plate and return peppers to the oven until roasted to your liking).