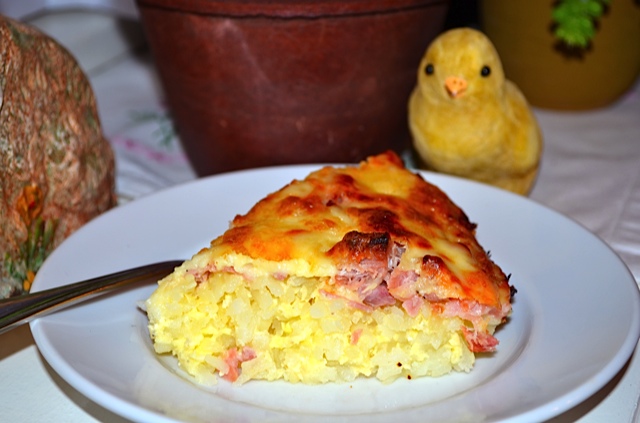 prepared by and photo by Emily Doscher

Ham, cheese and potatoes in a pie.  Another inventive way to utilize left-over ham.  Easy to prepare, although you need about an hour to bake in total.

Size:

4-6 servings



Ingredients:
2 (12 oz) packages frozen hash brown potatoes
1/3 cup butter, melted
1 cup cooked diced ham
1 cup shredded Monterey Jack cheese
2 eggs
1/2 cup heavy whipping cream
Salt and pepper to taste



Directions:




Preheat oven to 425F.
Squeeze any excess moisture from the potatoes and combine them with the melted butter or margarine in a small bowl.  Press this mixture into the bottom and sides of an ungreased 10″ pie pan.
Bake for 25 minutes.
Remove pan from oven and arrange the ham and cheese evenly over the potatoes.  In a separate small bowl, beat together the eggs, the cream, salt and pepper.  Pour this over the ham and cheese.
Return pan to oven and bake for 425F for 30 minutes, or until the custard has completely set.