foodnetwork.com

What do you get when you combine tacos and pizza together? The ultimate solution for dinner. The best of two worlds combined into one perfect round. Kids and adults alike can personalize their own pizza pie.

Size:

3 individual pizzas



Ingredients:
TACO SEASONING:
2 tbsp onion powder
2 tbsp garlic powder
1 tbsp chili powder
1 tsp dried oregano
1 tsp cayenne pepper
1 tsp ground cumin
Kosher salt and freshly ground black pepper
PIZZAS:
1/4 cup canola oil, plus more for brushing
1 lb skinless, boneless chicken breasts
1 16 oz tube pizza dough
All-purpose flour, for dusting
1 cup shredded mozzarella
1 cup shredded sharp cheddar
1 avocado
Juice of 1 lime
1/2 tsp ground cumin
1/2 tsp chili powder
1 tbsp diced red onion
Kosher salt and freshly ground black pepper
1 cup fresh salsa
1/2 cup sour cream
1/4 cup shopped fresh cilantro



Directions:




TACO SEASONING: Mix all of the ingredients with 1 tablespoon each salt and black pepper in a bowl. Set aside.

PIZZA: Preheat a grill to medium high. Grill the chicken until cooked through, about 4 minutes per side. Let cool, then cut into bite-size pieces.

Divide the dough into 3 pieces. Roll out each on a floured surface into an 8″ round. Brush with canola oil, sprinkle with taco seasoning and grill until crisp, 3 to 5 minutes per side; remove from the grill.

Mix the cheese in a bowl, then sprinkle on the crusts and top with the chicken. Return the pizza to the grill, and cook until the cheese is melted, about 5 minutes. Meanwhile, mix the avocado, lime juice, cumin, chili powder, red onion, and salt and pepper to taste. Top the pizzas with the avocado mixture, salsa, sour cream and cilantro.
---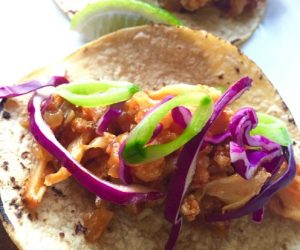 ---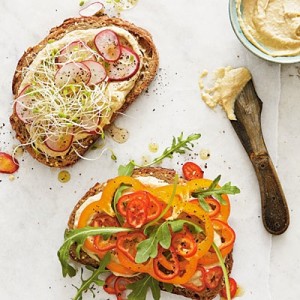 ---
Mini Zucchini Tarts with Goat Cheese