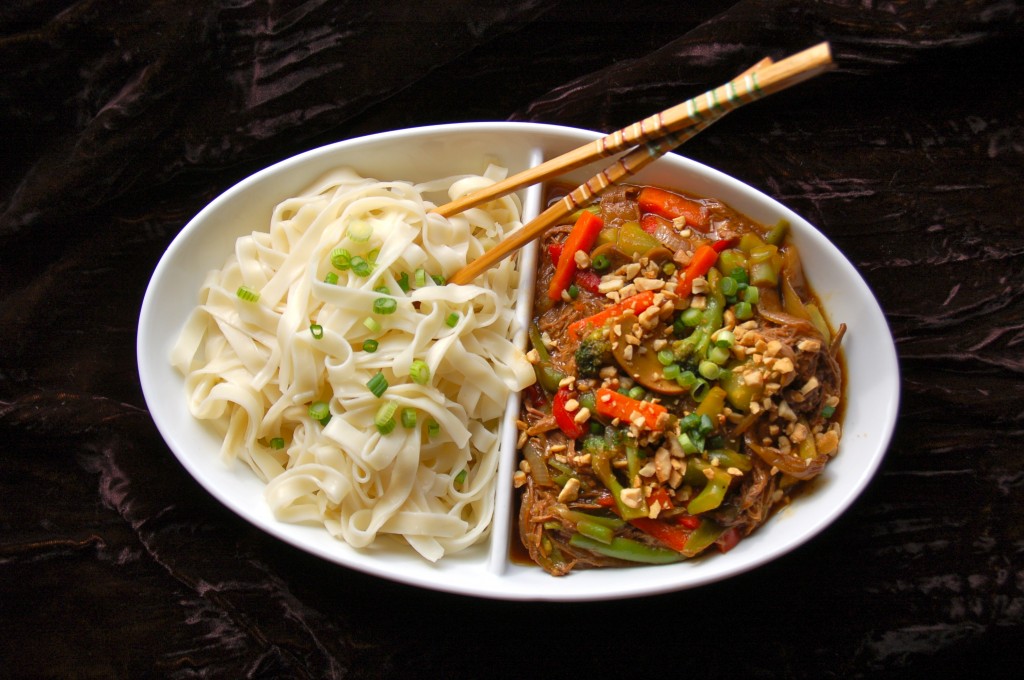 prepared by and photo by Emily Doscher

Got 20 minutes? Good… than this is your dish to make tonight. Hop on board the Orient Express. No ticket necessary! Lo mein noodles work best, but feel free to use egg noodles or fettucine instead (there are cashews, so if you have a nut-free house, feel free to omit).

Size:

4-6 servings



Ingredients:
12 ozs dried lo mein noodles (International section of most grocery stores)
1 tbsp vegetable oil
1 large onion, sliced
1 16 oz package frozen Asian stir-fry veggies (broccoli, carrots, red peppers, celery, water chestnuts, & mushrooms)
2 cups Shreddin' Shredded Beef (recipe linked below)
1 12.1 oz jar stir-fry sauce
1 4 oz can (drained weight) sliced mushrooms, drained
1/3 cup coarsely chopped cashews
2 green onions, chopped



Directions:




Prepare noodles according to package directions; set aside.

In a large skillet or wok heat oil over medium-high heat. Cook and stir onion in hot oil for 2 minutes. Add frozen stir-fry veggies; cook and stir for about 5 minutes more or until crisp-tender. Add shredded beef, stir-fry sauce, and mushrooms. Heat until bubbly.

Serve with noodles. Top with cashews and green onions.