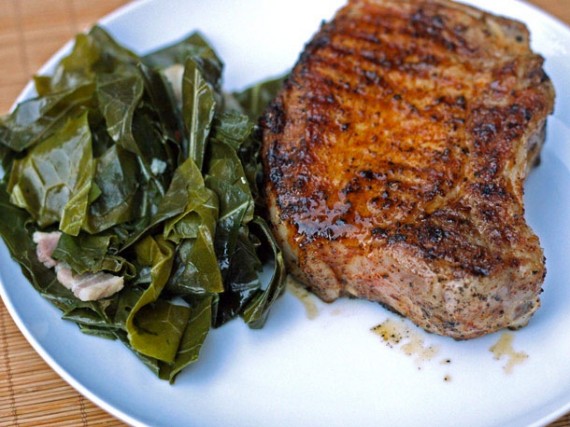 seriouseats.com

Thanks to barbecue pit-master, Mike Mills and his Magic Dust! It's a little sweet, a little spicy, and super easy to prepare. Double-up the recipe and keep handy to sprinkle on other cuts of meat as well as vegetables. Serve alongside coleslaw, sauteed greens… it's one of those main dishes that goes with anything. If your kids like flavor they will love this dinner.

Size:

serves 4



Ingredients:
MIKE'S MAGIC DUST:
1/2 cup paprika
1/4 cup kosher salt
1/4 cup sugar
2 tbsp mustard powder
1/4 cup chile powder
1/4 cup ground cumin
2 tbsp ground black pepper
1/4 cup granulated garlic
2 tbsp cayenne (or less to taste)
PORK CHOPS:
4 thick-cut-pork rib chops
1/2 cup magic dust (see above)
1 tbsp canola oil



Directions:




Combine the spices for magic dust in a sealable container and shake to combine and distribute. Rub 1/2 cup of the magic dust into all sides of the pork chops, and set aside.

Prepare a grill to medium heat, or heat a grill pan over medium heat. Using a paper towel and tongs, spread the canola oil over the grill grates or grill pan to prevent sticking.

Grill the pork chops until well-caramelized on all sides and done to your liking, 3-5 minutes per side for medium, depending on thickness. Allow to rest for 3-5 minutes before serving.