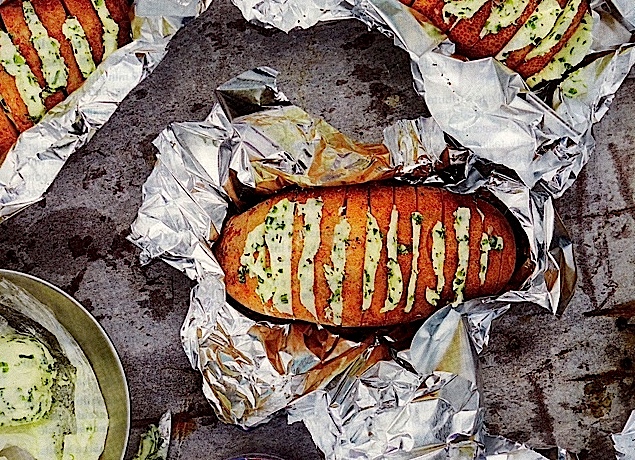 foodandwine.com

Super simple way to enjoy a "baked" potato. Stumbled upon this recipe for grilling a baked potato in Food & Wine magazine. Love the idea of slicing the potato and serving the butter-chive-sour cream in-between. Presentation is awesome and the combo tastes perfect. And FYI… they don't come out quite as pretty as this picture… but man are they tasty!

Size:

serves 4



Ingredients:
1 stick unsalted butter, softened
3/4 cup finely chopped chives, plus more for garnish
1/2 cup sour cream, plus more for serving
1 1/2 tsp kosher salt
1 tsp freshly ground pepper
Four 10 oz baking potatoes



Directions:




In a medium bowl, combine the butter, 3/4 cup of chives, 1/2 cup of sour cream and the salt and pepper; mix until smooth. transfer the butter to a large sheet of plastic wrap and form into a log. Wrap and refrigerated until firm about 1 hour. (Can be made 2 days ahead.)

Light a gas grill. Using a sharp life, slice each potato crosswise at 1/3″ intervals, cutting down but not all the way through the potato. Cut the chive butter into thin slices, then carefully tuck the butter in between the potato slices. Wrap each potato tightly in aluminum foil.

Set the potatoes on the grill over low heat, cover and cook, turning occasionally, until tender, 45 to 50 minutes. Unwrap the potatoes, garnish with finely chopped chives and serve with sour cream.