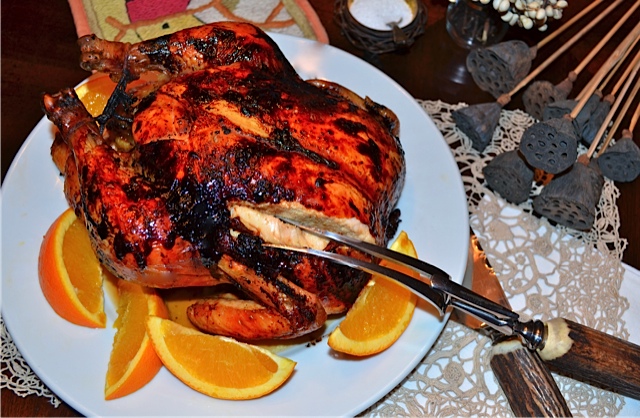 prepared by and photo by Emily Doscher

Soy sauce is what lends this bird it's rich, dark coating.  Thanks to ingredients from the orient and a bit of sweet maple syrup, only tender, juicy slices of chicken will be served tonight.  Try plating along with steamed broccoli and Green-Onion Risotto.

Size:

4 servings



Ingredients:
1/4 cup pure maple syrup
1 tbsp soy sauce
1 tbsp rice vinegar
1/2 tsp hot pepper sauce
3/4 cup dry Sherry
1 4 1/2 lb chicken, fat and giblets removed, rinsed and patted dry
2 tbsp (1/4 stick) butter, room temperature
1/2 orange, cut into 4 pieces
2 1/2" slices fresh ginger, smashed
2 garlic cloves, smashed



Directions:




Preheat oven to 375F.  Whisk maple syrup, soy sauce, rice vinegar, and hot pepper sauce in small bowl for glaze.  Simmer Sherry in small saucepan until reduced to 1/2 cup, about 3 minutes.

Run hands under chicken skin to loosen; rub most of butter under skin over breast and thighs.  Rub remaining butter over outside of chicken.  Sprinkle cavity with salt and pepper.  Place chicken in roasting pan.  Squeeze some juice from each orange piece over chicken.  Stuff cavity with orange pieces, ginger, and garlic.  Tuck wing tips under and tie legs.  Pour Sherry over chicken.

Roast chicken 20 minutes.  Add 1/2 cup water to pan.  Roast 15 minutes longer.  Brush chicken with some glaze.  Roast chicken until thermometer inserted into thickest part of thigh registers 170F, brushing chicken with glaze every 10 minutes, about 40 minutes longer.  Tilt chicken to allow juices from cavity to run into roasting pan.  Transfer chicken to platter.  Let stand 10 minutes (internal temperature will rise).

Spoon fat from surface of pan juices.  Add any remaining glaze (if any) to pan juices.  Place roasting pan over 2 burners; bring sauce to boil.  Serve sauce alongside chicken.