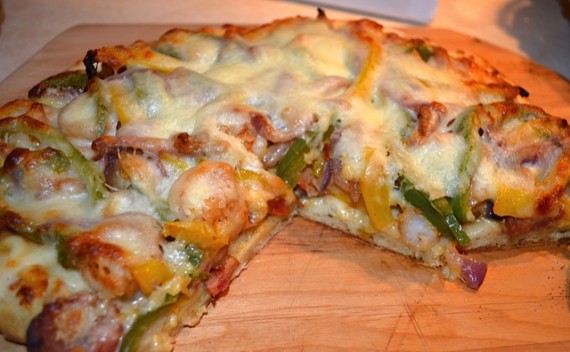 prepared by and photo by Emily S. Downs

Several components make this the ultimate Mardi Gras pizza pie. Everything Cajun thrown onto a pie crust. Can all be done in less than an hour, thanks to Coastal Living Magazine for publishing this back in February 2013. Don't forget to wear your beads!

Size:

1 pie/6 servings



Ingredients:
8 oz Andouille sausage, thinly sliced
1 lb large shrimp, peeled and deveined
1 1/2 tsp Cajun or Creole seasoning
1 garlic clove
1 store-bought pizza dough (in refrigerated section)
1 tbsp extra-virgin olive oil
1/3 cup refrigerated prepared Alfredo sauce
1/4 cup red onion, thinly sliced
1/2 yellow bell pepper, very thinly sliced
1/2 green bell pepper, very thinly sliced
1 1/2 cups (6 oz) shredded mozzarella cheese



Directions:




Preheat oven to 450F. (For a crispy crust, preheat a pizza stone on the lowest rack in the oven.)

Cook sausage in a large skillet over medium heat 6 minutes or until golden on all sides. Remove with a slotted spoon; set aside. Drain all but 1 tablespoon oil.

Add shrimp, Cajun seasoning, and garlic; sauce over medium-high heat, stirring frequently, 2 minutes or until done. Set aside.

Roll dough to 1/4″ thickness on a lightly floured baking sheet or pizza peel. Brush edges with oil; prick with a fork. If desired, transfer crust to pizza stone dusted with cornmeal or semolina flour; bake 5 minutes.

Remove crust from oven; spread sauce to edges of crust, and top with sausage, shrimp, onion, and peppers. Sprinkle evenly with cheese. Return pizza to oven, and bake 12 minutes or until crust is golden brown and cheese melts.