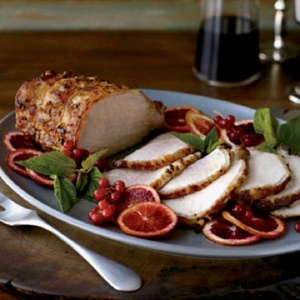 foodandwine.com

A special entree to serve to those special people in your life. A little sweet and a little spicy, offering something for everyone sitting at your table.

Size:

8 servings



Ingredients:
2 1/2 lbs boneless pork loin roast, tied
2 garlic cloves, thinly sliced
2 tbsp maple sugar (granulated brown sugar can alternately be used)
1 1/2 tsp finely grated fresh ginger
1/2 tsp kosher salt
1/4 tsp crushed red pepper
2 tbsp extra-virgin olive oil
Blood orange slices, red currants and sprigs of mint, for garnish (optional)



Directions:




Using a small, sharp knife, make thin slits all over the pork loin roast and slip a garlic slice into each one.  In a small bowl, mix the maple sugar (or granulated brown sugar) with the ginger, salt, red pepper and olive oil. Rub the paste all over the pork, wrap it well in plastic and refrigerate overnight in a small roasting pan; let stand at room temperature for 1 hour before roasting.

Preheat the oven to 450F. Roast the pork for 10 minutes. Lower the oven temperature to 400F and roast the pork for about 35 minutes longer, until an instant-read thermometer inserted in the thickest part registers 135F. Transfer the roast to a cutting board and let rest for 15 minutes before slicing. discard the string and carve the pork into thin slices. Arrange on a platter, garnish with the orange slices, red currants and mint and serve.