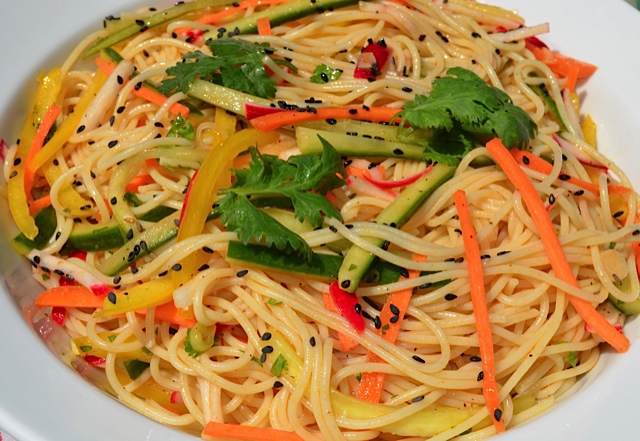 prepared by and photo by Emily S. Downs

No time, no problem.  I serve this Asian influenced noodle meal cold with or without meat.  To protein it up, add shredded rotisserie chicken or sliced grilled steak.

Size:

4- servings



Ingredients:
1/3 cup unseasoned rice vinegar
1/3 cup vegetable oil
1 tbsp Sriracha (hot chile sauce... available at any super market)
1 tbsp toasted sesame oil
8 cups matchstick-size pieces mixed summer vegetables (such as carrots, radishes, cucumbers, and bell peppers; about 1 1/4 lb)
Kosher salt, freshly ground pepper
8 oz buckwheat soba (Japanese-style noodles) or vermicelli noodles
1 cup (loosely packed) cilantro leaves w/tender stems
3 scallions, thinly sliced
1 tbsp black or white sesame seeds
Optional: shredded rotisserie chicken or sliced grilled steak



Directions:




Whisk first four ingredients in a large bowl.  Add vegetables; toss to coat.  Season with salt and pepper.

Cook noodles in a large pot of boiling salted water, stirring occasionally, until al dente; drain.  Run noodles under cold water to cool them; drain well and add to bowl with vegetables.  Add cilantro and scallions; season to taste with salt and pepper.  Sprinkle sesame seeds over and serve.