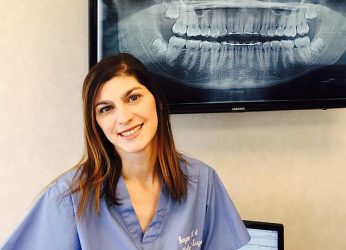 The back to school volunteer requests are running rampant, and the slots are not filling up very quickly. Seems volunteerism across the board is down. People just do not seem to have the time. The standard answer to "How are you?" is "Busy!" accompanied by the standard I am SO busy expression — which looks like this: an opening wide of the eyes with an abbreviated eye role and a simultaneous, yet slight, neck and lower jaw extension. Say "busy" as if you are trying to get someone to understand just how busy you are, and there is a statistically significant 95% chance you will make this face. I make this face all the time, and therefore am thinking long and hard before I sign up for things like "First Grade Valentine's Day coordinator." I mean seriously, how am I going to make time for that?!?
Let me tell you, I was feeling pretty bad for myself with all these opportunities to volunteer. Then, I read about Angela Illuzzi-Russo DDS, and I am ashamed to be complaining about being too busy to help out. I will probably still complain, but when I hear of women like this, it helps to put things in perspective. Dr. Russo is an oral and maxillofacial surgeon at Bergen Oral and Maxillofacial Surgery. She is the only woman in her practice, is mom to an adorable 3 year old boy (see pic below) and still finds time to volunteer her services to those in need.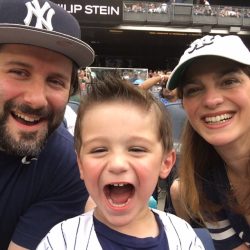 In too many parts of the world, medical care is hard to find, and good, specialized surgical medical care is almost impossible. Dr. Angela Russo is trying to change this. She teamed up with the Health Humanitarian Aid Foundation, traveling to Ghana, West Africa to perform life saving and life changing operations on both children and adults — curing disease and literally giving children with facial deformities the ability to smile. As if that is not enough, she also volunteers her time to DASH, helping low income holocaust survivors get essential dental care. DASH, Dental Assistance for Survivors of the Holocaust, is part of the Jewish Family Services of North Jersey.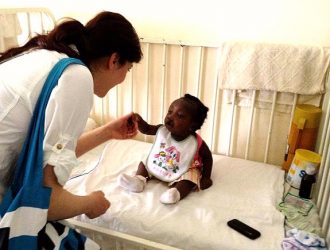 I do not know how she finds the time, but somehow she does, and people all over the world are better off for her efforts. Organizing that Valentine's Day party isn't sounding so tough after all.
Dr. Russo's practice, Bergen Oral and Maxillofacial Surgery (BOMS) has been serving our community for over 60 years. They offer a wide range of treatment options including dental implant surgery, removal of painful wisdom teeth, treatment of oral and facial injuries and fractures, and the diagnosis of many other oral and facial ailments. The practice is made up of a team of five highly trained board-certified surgeons, and the only one of its kind in New Jersey boasting three dual-degree oral and maxillofacial surgeons, expertly trained in both dentistry and medicine. They were recently voted Top Doctors in New Jersey by NJ Monthly Magazine.