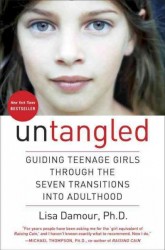 As a parent of 2 girls, I constantly struggle with how to raise them to feel confident, beautiful and happy. We all do, right? If these are struggles that you face too, you might want to come out on Monday, March 14, 2016, to meet Dr. Lisa Damour, a Cleveland psychologist, author, teacher and consultant. Her latest book, Untangled, is a practical and engaging guide for parents of daughters an was deemed "the new "Bible" of parenting books" by Your Teen Magazine. Dr. Damour draws on decades of experience and the latest research to reveal the seven distinct developmental transitions into adulthood and addresses the most common challenges of raising a healthy, happy young woman.
To register for the event, visit: cuyahogalibrary.org/Events.a
Cuyahoga County Public Library, 25501 Shaker Boulevard • Beachwood, Ohio  44122.