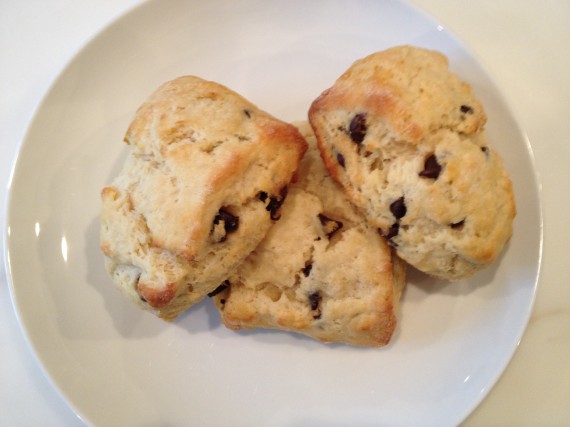 This is the best scone recipe I have come across. My kids and all of my friends love them. You need a pastry blender which is very easy to use. I whip these up for breakfast right before I get my kids up.

Size:

Makes 8 scones(I always double it)



Ingredients:
2 cups flour
1/4 cup sugar
1 1/4 teaspoons baking powder
1/4 teaspoon baking soda
1/4 teaspoon salt
1 stick unsalted butter softened(I do it in the microwave)
1/2 cup chocolate chips
1 teaspoon vanilla
3/4 cup buttermilk(sometimes I need to add a little more)



Directions:




Preheat oven to 400 degrees. Line baking sheet with parchment paper. Makes for easy clean up.

In a large bowl, whisk together the flour, sugar, baking powder, baking soda and salt. Cut the butter into small pieces and blend into the flour mixture. If you have a pastry blender you don't need to cut butter up first. The mixture should resemble course crumbs. Stir in the chocolate chips. In a small measuring cup whisk together the buttermilk and vanilla, then add the flour mixture. Stir until the dough comes together. Do not over mix.

Transfer to a lightly floured surface and knead dough gently four or five times. I then roll the dough into a log and cut into about 2 inch pieces. Brush the tops with milk and sprinkle a little sugar.

Bake for about 15-20 min. depending on your oven. I do 15 minutes. A toothpick should come out clean. Remove from oven and place on a wire rack to cool.