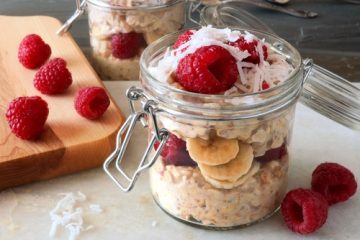 Overnight Mason Jar Oatmeal – this is brilliant if you've ever tried to cook a nice hardy oatmeal for your kids on a school morning – it can be time consuming and (for me) messy. These can be prepared Sunday for the entire week. The premise is to add all dry ingredients to the jar (oats, dried fruit, seeds, protein powder etc, and the night BEFORE, add the wet ingredients (like coconut milk or add yogurt for a thicker texture) and let sit overnight in the fridge where the oats will absorb all the moisture and be ready to eat in the morning – just add fresh fruit or nuts. Check out Quaker Oats site for more recipe ideas.
Ingredients
1/2 cups Quaker Oats
1/2cups low-fat yogurt
1/2cups low-fat milk
2 teaspoons Chia seeds
1/4cups blackberries, sliced
1/4cups Raspberries
1/4cups Banana, sliced
Add oats to your container of choice, pour in milk, add low-fat yogurt, and sprinkle in chia seeds. Add in combined mixture of sliced blackberries, sliced banana, and raspberries. Place in fridge and enjoy in the morning or a few hours later. Let steep for at least 8 hours in a refrigerator 40° F or colder. Best to eat within 24 hours.
First published in 2017