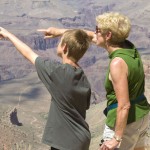 Every grandparent and grandchild has unique interests and requirements when traveling. The goal is to discover them and smooth the intergenerational challenges. Some tour companies have plenty of ideas to make all ages happy.
Road Scholar – What's more rewarding than cultivating your love of lifelong learning? Teaching a grandchild to love it, too. They've been offering grandparent and grandchild trips for more than 30 years. Choose from more than 100 tours throughout the United States, Europe, South America, Africa and Asia. Share your passion for educational travel with a grandchild and make their trip with you a memory that will last a lifetime.
Thomson Family Adventures – Increasingly, grandparents are expressing an interest in traveling with their grandchildren, with or without the parents. Whether you are taking the whole brood or just one grandkid at a time as a rite of passage, Thomson will make your vacation a joy.
Tauck Bridges – Two thirds of Tauck Bridges tours include grandparents. Especially recognized for its river cruises, the company fosters bonding, building of bridges, between generations through "shared enrichment."
Journeys For Families  – Encourages kids, parents and grandparents of all ages to travel. When grandma and or grandpa take a grandchild on a trip, there are special concerns and special needs of the "grand" travelers and of the parents back home as well. Grandparents often appreciate a fair level of comfort while grandkids will appreciate a young guide (whom the grandparents can fully trust) who is prepared to be as physically active and culturally aware as they are. 
Smithsonian Journeys –  It's no surprise that the Smithsonian takes families to international destinations and elsewhere in the U.S. on specially planned Smithsonian Family Adventures and Family Cruises which are filled with fun and wonder.