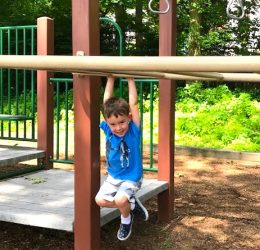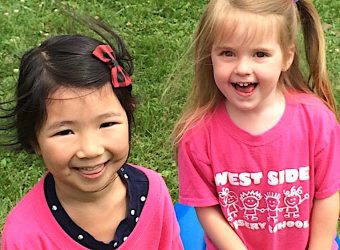 Our favorite preschool, West Side Nursery School, in town is offering 4 terrific camps for kids this summer. My kids and Karen's loved these camps when they were young enough to go. If they could, we're pretty sure they'd try to lie about their age so they could sneak back inmfor a week. We loved that the camps were fun and that our kids learned so much without knowing it. To them, it always felt like play time.
This year, West Side is offering 4 camps: Explore the Arts, H.O.T. STEM, Summer Skool and Summer Fun Camp
The staff to camper ratio is 8:1. Besides the fact that their teachers have years of experience, they are all so kind, sweet, energetic and truly loved our kids–sometimes more than we did!
And the space can't be beat. West Side is lucky enough to have a gorgeous shaded, outdoor playground on a half-acre of landscaped, fenced-in grounds! They also have a full indoor, air-conditioned gym and a children's library where we'd often sit together and read after camp was finished.
And you can choose one week or all–great for non-committal moms like us! Click here for more info or to register. For more information, you can also email Cindy Hardt or call 201.447.3501
West Side Nursery School Camps, 6 South Monroe Street, Ridgewood, NJ 07450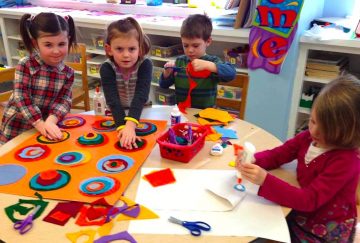 Check out the camp themes below:

Explore the Arts
Choose weekly July 8 – Aug 2
9am – 12:30pm
3 – 6 years  
Children spend themed weeks exploring music, movement, theatre, role playing, and visual arts. The week ends with a Musical show on Fridays of each session at 12pm. And there's still lots of time for outdoor fun in our shaded playground! $275.00 per week. Register here.
H.O.T. STEM Summer Camp
July 8th – July 12th
9:00 AM – 12:30 PM
Ages 4 – 6 years
HOT STEM Camp is a hands-on and interactive week of Science, Technology, Engineering and Math. With STEM, children use Higher Order Thinking (lots of brainstorming, designing and building!) Kids will have fun together outdoors and indoors using hot summer elements such as water, heat and shade. $275.00 per week Register here.
Summer Skool
Week #1: June 17 – June 21
Week #2: June 24 – June 28
9:00 AM – 2:00 PM
For Pre-K or Transitional Kindergarten
This is a very active camp–great for getting some energy out. The camp includes lots of outdoor activities and play and is geared towards older kids who are completing Pre-K or Transitional Kindergarten. Each week, teachers create lesson plans based on different themes for children to explore like "Creating Outside Art Installations" or "It's the West Side Olympics!" $300 per week.Register here.
Summer Fun Camp
Choose weekly from June 17 – Aug 2
9:00am – 12:30 pm
Ages: 2½ – 6 years 
This camp is all about outdoor fun in their shaded playground! $275.00 per week. Register here.
---