Any doctor (and your Mom) will tell you that breakfast is the most important meal of the day.  To help you live well and stay well, Summit Medical Group has started a new on line recipe log with healthy options to cook and serve. Registered dietitian, Susan Canonico, RD, reviews each recipe and provides important nutrition information to help you get the nutrients, vitamins, and minerals you need.
The Summit Medical Group also wants to hear from you and add your most delicious – and of course – healthy recipes! If you have healthy suggestions you would like to share, please email kprice@smgnj.com with your healthy recipe. If your recipe meets the registered dietitian's criteria, they will feature it on their  site!
In the meantime, here is one of our favorite SMG breakfast recipes, Healthy Breakfast Burritos.  Its quick and easy to make, and children and adults love it.  Click here to see other breakfast recipes, as well as healthy lunch, dinner, snack and even dessert options!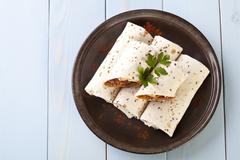 HEALTHY BREAKFAST BURRITOS
1/2 cup of diced onion
1/2 cup of chopped red and green bell peppers
1 teaspoon of canola oil
3 large eggs and 3 large egg whites
1/4 cup of fat-free milk
1/2 cup of pinto of black beans, rinsed and drained
1/2 cup of shredded low-fat cheddar cheese
1 chopped avocado
Dash of salt and pepper
4 6-inch whole wheat tortillas
1/2 cup of salsa
Hot sauce to taste
Directions
Heat the canola oil in a nonstick skillet.
Saute the onion and bell peppers until they are soft (about 5 minutes).
Add beans and heat through for 2 to 5 minutes.
Place vegetable/bean mixture in a bowl and stir in the shredded cheese.
Thoroughly mix together the eggs, egg whites, fat-free milk, and salt and pepper with a fork and scramble it in the skillet.
Wrap the tortillas in damp paper towels and microwave them on high for 20 to 40 seconds to soften them.
Layer each tortilla with the vegetable/bean mixture, scrambled eggs, salsa, hot sauce, and avocado.
Roll the tortilla up and serve it.