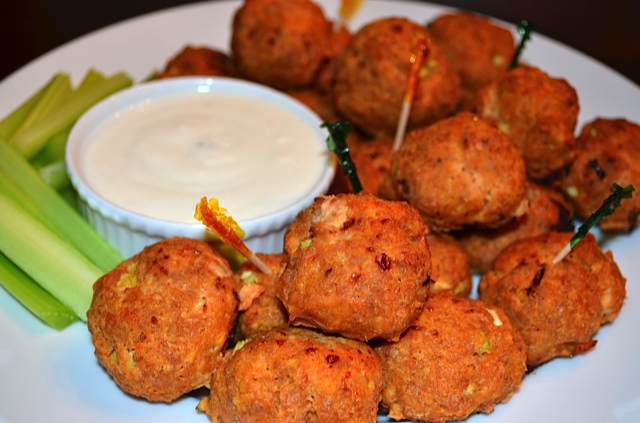 This is the best appetizer for all ages. Their are never any left over. I make them mini for appetizers and big for dinner. I also substitute gluten free bread crumbs(Alexia brand) when making them for gluten free folks. I also quadruple the recipe and freeze them.

Size:

about 40 3/4 inch balls



Ingredients:
2 tablespoons vegetable oil
4 tablespoons(1/2) stick unsalted butter
1/3 cup Frank's redhot sauce
1 pound ground chicken, preferably dark meat
1 large egg
1/2 celery stalk, minced
3/4 cup bread crumbs(you can sub gluten free Alexia brand works best)
1 teaspoon salt



Directions:




Preheat oven to 450. Drizzle vegetable oil onto a foil lined large cookie sheet with edges. Use your hand to evenly coat surface.

Combine butter and hot sauce in a small saucepan, and cook over low heat, whisking until the butter is melted and fully incorporated. Remove from the heat and allow the mixture to cool for 10 minutes.

Combine the hot sauce mixture, ground chicken, egg, celery, bread crumbs, and salt in a large mixing bowl and mix by hand until thoroughly incorporated.

Roll the mixture into round, 3/4 inch balls, making sure to pack the meat firmly. Place the balls in the prepared baking dish, being careful to line them up snugly and in even rows vertically and horizontally to form a grid. The meatballs should be touching one another.

Roast for 15-20 minutes, or until the meatballs are cooked through. I insert a meat thermometer and make sure it reads 165.

Allow to cool and serve with a side blue cheese dressing.

Check Out Our Low-Cal Dirty Martini.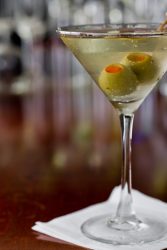 ---
More Low-Cal Cocktails: Cocktails for Dieters.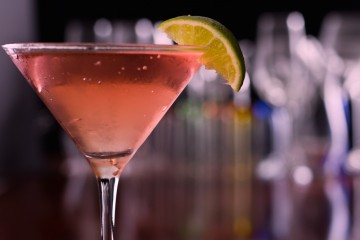 ---
A Tiny Little Seed That Packs a Big Punch of Nutrition.