Looking for a gift for a Confirmation or First Communion? Here 10+ of our favorite gift ideas: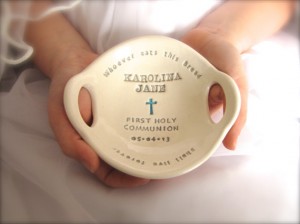 The Custom First Communion Bowl–– Commemorate this special event in their faith journey with a classic gift that will be cherished for years to come. Kept by a bedside, it's the perfect size to hold a rosary, loose change, rings or other trinkets. A functional keepsake to mark an important religious milestone. $54.95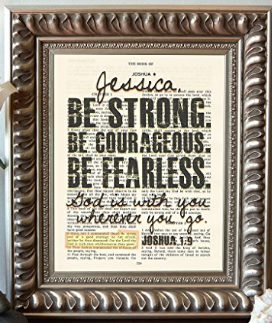 Custom Vintage Bible Verse

This unframed reproduction print of a highlighted King James Bible scripture is made by scanning real pages from old Bibles (hence the artistic look–they have slight flaws and aging such as bleeding words from the other side, because the pages are so thin), which just adds to the character. This is a perfect gift to encourage and inspire you communicant or confirmation candidate.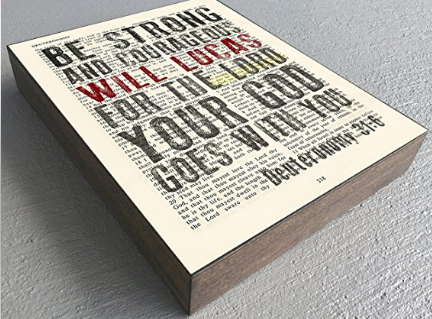 It is also available mounted stained birch wood block
(1-1/2″ deep): 8×10 or 5×7. $30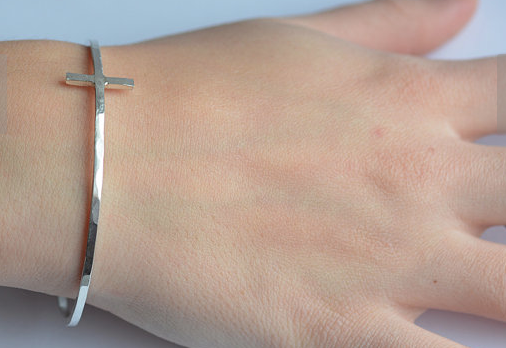 Silver Cross Cuff Bracelet
This modern Sterling Silver Cross bangle bracelet is beautiful on it's own or stacked with my other bangles and cuffs. $52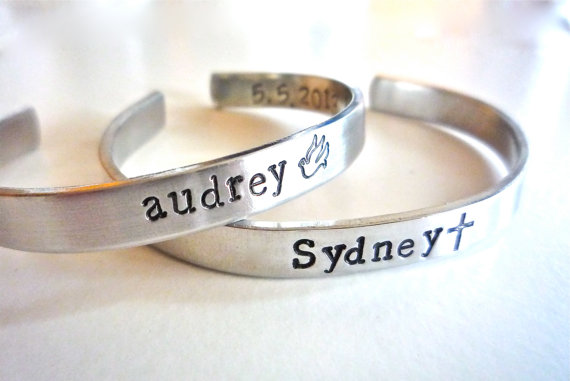 First Communion Bracelet
This sweet personalized bracelet includes the child's name and any special extras that will give it your personal touch. It is 1100 Aluminum, safe to wear, hypoallergenic, and will not tarnish.
It is 5 inches in length and 1/4 inches wide. $20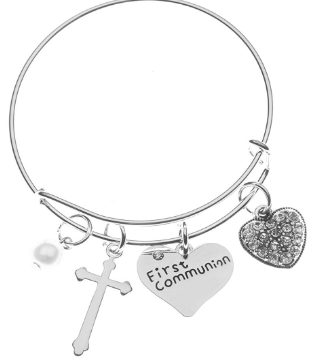 Silver First Communion Bracelet

This engraved communion bracelet has a cross, a heart and a small pearl and can be adjusted to fit is only $16.50 and ships on Amazon Prime.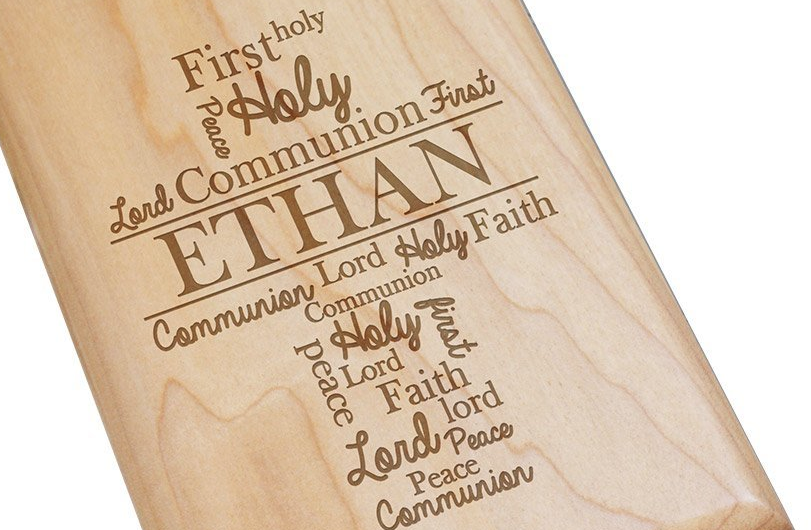 Engraved First Communion Wood Box

You can keep special keepsakes from the event–anything from cards and invitations to jewelry or special trinkets– in this handsomely engraved personalized keepsake box. Words of faith are engraved on the top of the box along with any name to appear within the words. $29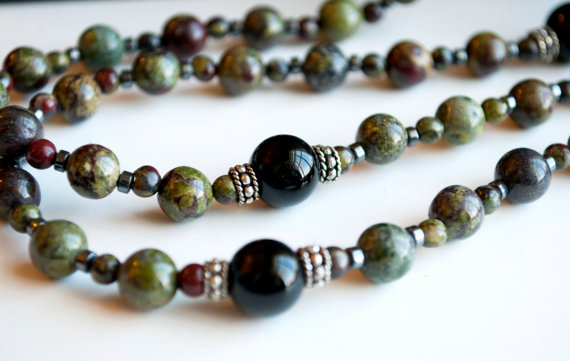 A Rosary Appropriate for a Boy or Young Man
Searching for a one of a kind rosary that would be appropriate for a boy or young man? These were inspired by the designer's husband and sons when she realized the lack of masculine rosaries for men. Each handcrafted using jasper and black onyx semi precious gemstones. Each one is gift-boxed, ribbon-wrapped and includes a beautifully written and illustrated Daily Companion Prayer Book. $80.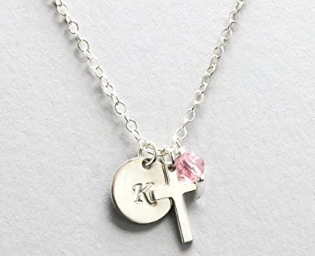 Cross and Initial Birthstone Necklace

This small, delicate necklace has a sterling silver cross charm, a hand stamped initial, and Swarovski crystal birthstone. It comes wrapped in a beautiful jewelry box. $39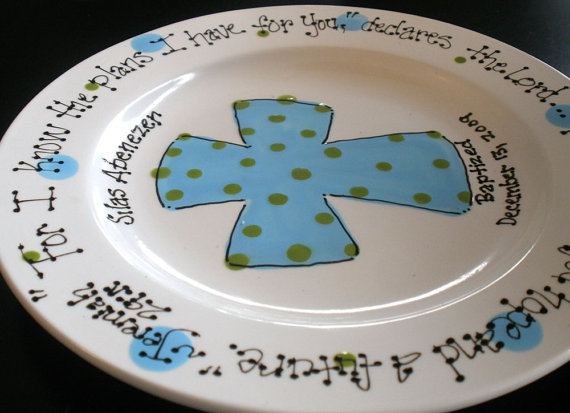 This 7.8″ personalized painted plate will make a perfect gift to celebrate the birth of a sweet baby. Please indicate which colors you you prefer in the note to seller's box. Also, give details such as name, date of birth, weight, and length. The original artwork on each piece is hand painted using non toxic underglazes and kiln fired. $27.50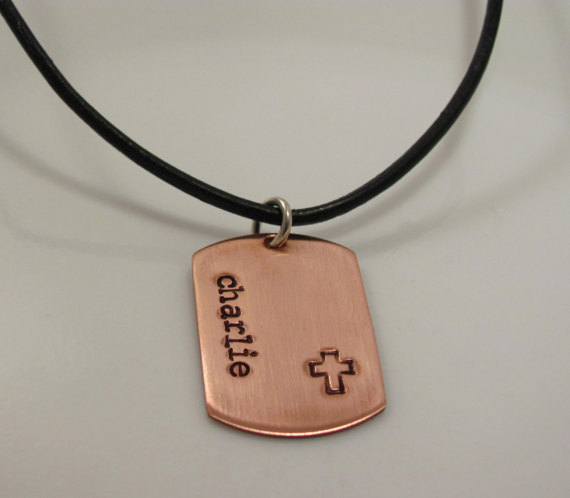 Hand Stamped Copper dog tag cross
This copper mini Dog Tag would be great for a boy. It has a brushed finish, is hand cut and comes on a leather cord necklace. It can also be upgraded to a sterling silver chain. If there is something you would like, they'll add that too. $29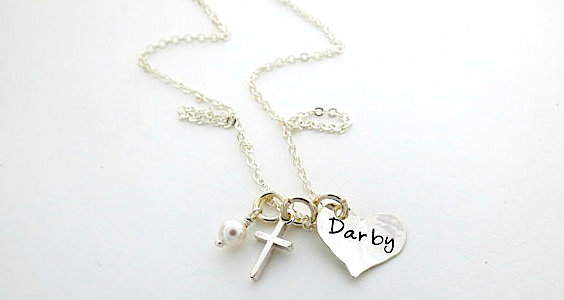 Personalized Necklace with Cross and Pearl is made from all sterling silver including a single 1/2 heart disc, cross charm, white pearl or color stone, small box, cable or ball chain in 16 or 18 inch. Personalized necklace for a baptism or first communion gift hand stamped with a name, date or word. Also a gift for anyone on your list. $34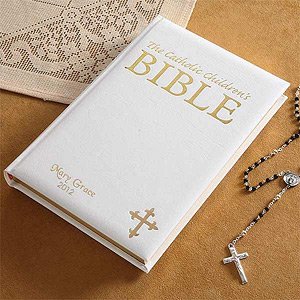 Personalized Engraved Children's Bible

With easy-to-read text and vibrant illustrations, this Bible has a soft white or maroon cover, gold stamping, edging and ribbon. It's easy to read and has 320 gilded pages. It measures 6" x 9" and includes gift box. You can also personalize it. $46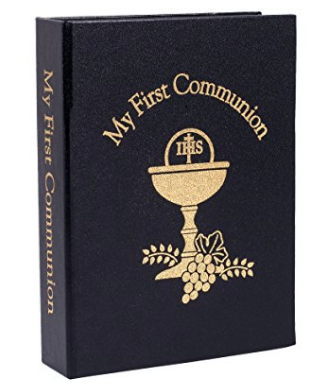 A First Communion Set

This 4-piece set includes: a first communion book, a communion rosary, and a communion pin. The First Communion Book contains illustrations and stories that help a young communicant to understand Communion, the Order of the Mass, the Sacraments, the Station of the Cross, the Holy Rosary, the Beatitudes, and the Life of Jesus. It also has daily and special prayers. $23
---
A Camp for Every Kind of Kid:
Circus Camp, Surf Camp, Adventure Camp and More!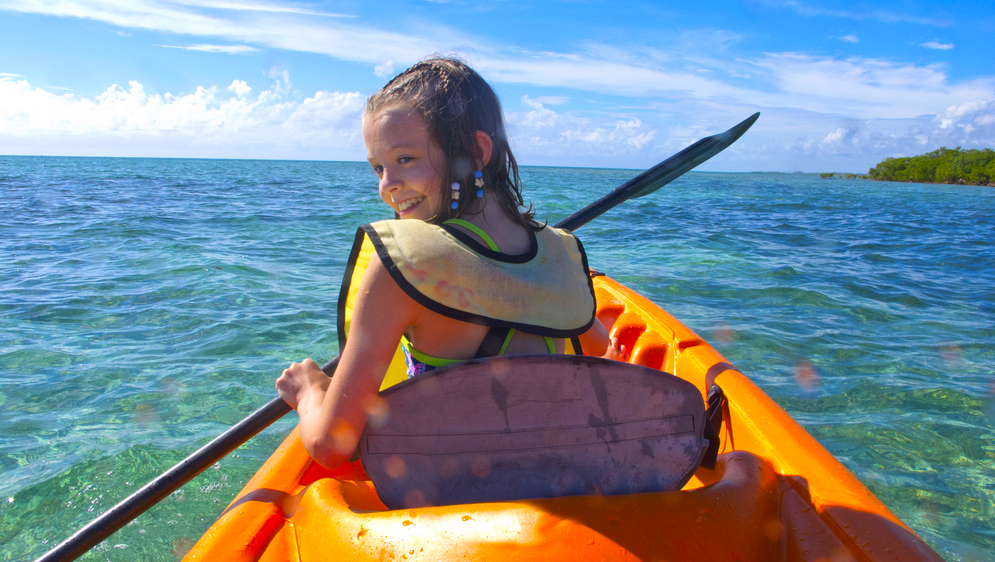 ---
25+ of Our Favorite Party Apps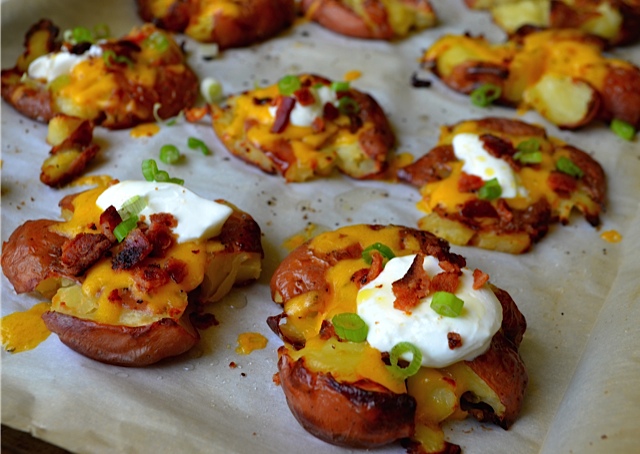 ---
Spring is Perfect for a Brazilian Caipirinha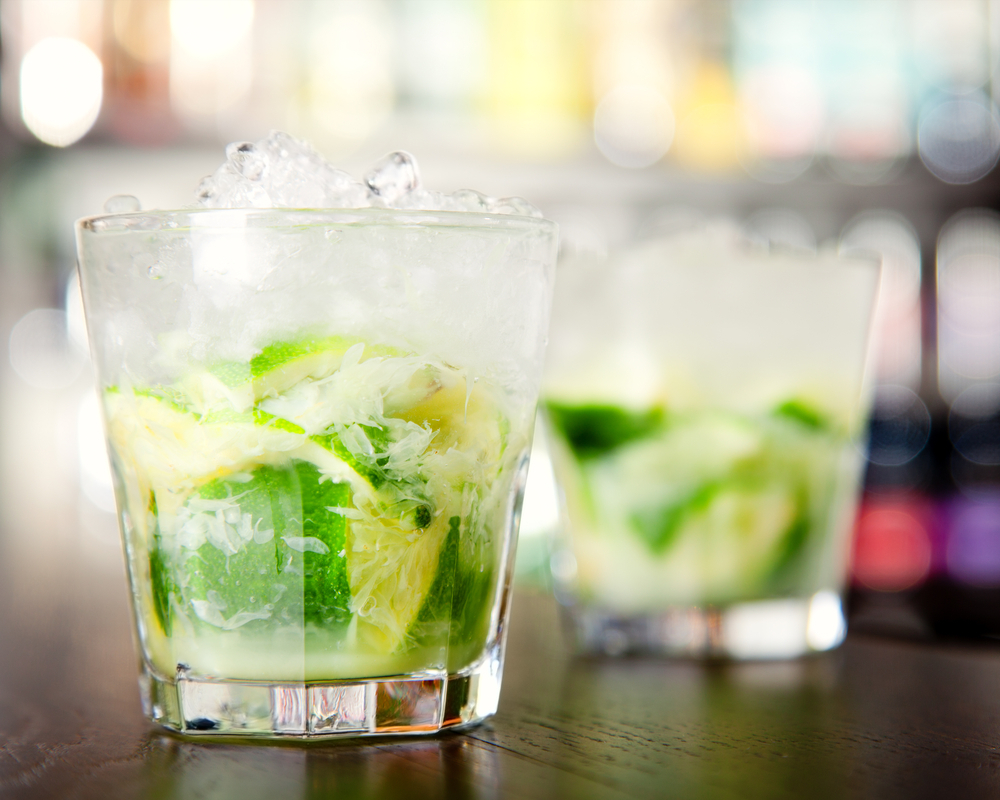 ---
How to Help Your Child Lose Weight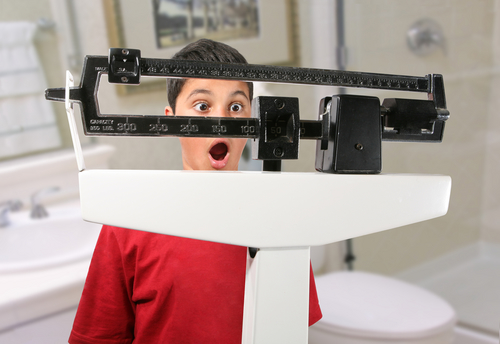 ---
Our 15+ Favorite Mouth-Watering Burgers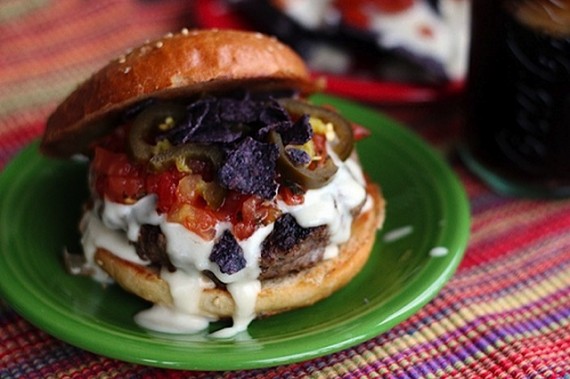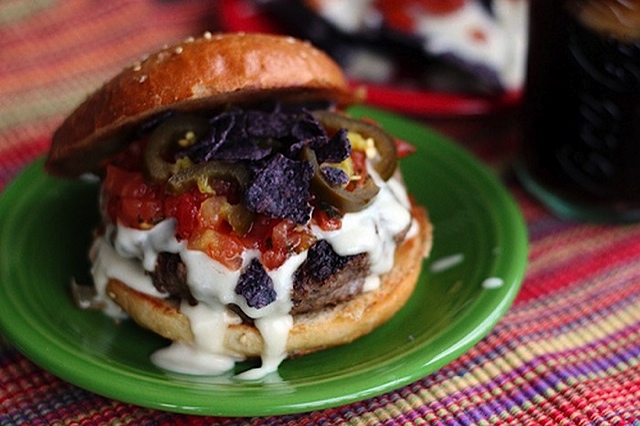 ---
Our All-Time Favorite Get-Aways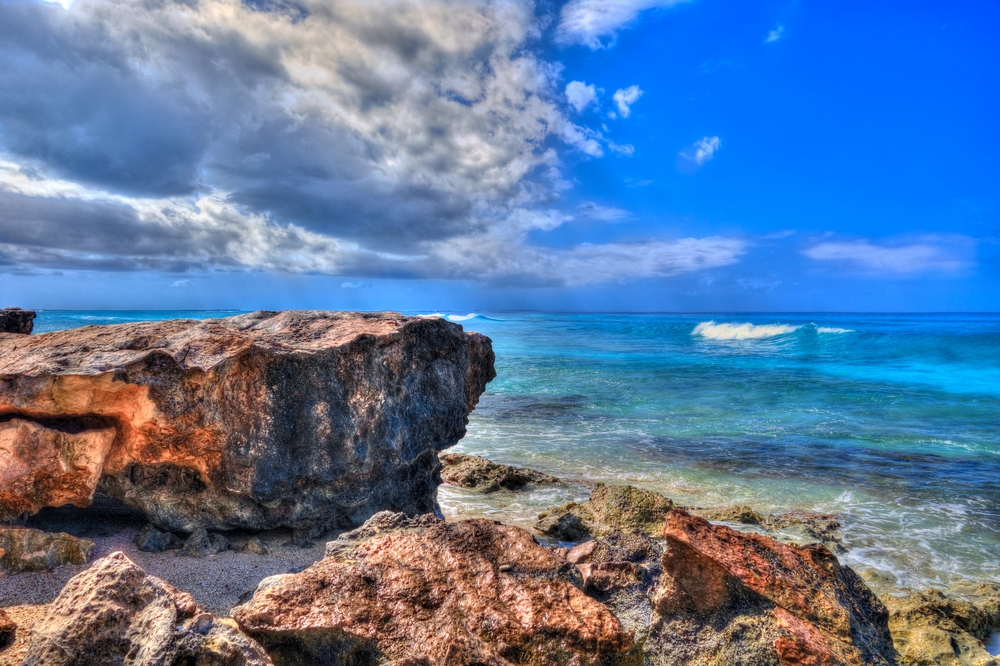 ---
Everything You Need to Know About Allergies