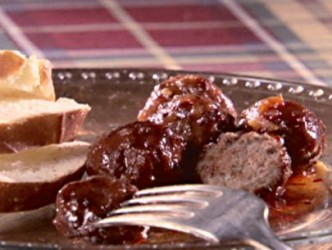 These oh-so-simple meatballs are a huge hit at our annual Holiday party.  They were devoured last year, in fact once the meatballs were gone I caught a few of our guests pouring the leftover sauce over crackers.
FYI, catalina dressing cannot be found in all grocery stores, however, Shop Rite in Chatham Township carries it.  I purchased the six pound bag of small frozen meatballs from Costco and tripled the recipe below.
Wish I could take credit for coming up with this simple recipe combination, but I have Sandra Lee to thank for that.
If you decide to try it, please let us know what you think.  I have a feeling you may be asked to make them again.
I have been requested by a good friend to prepare another batch for her upcoming birthday bash.
Ingredients
2 pounds fully cooked frozen meatballs
1 bottle (16-ounce) catalina salad dressing
1 cup orange marmalade
3 tablespoons Worcestershire sauce
1/2 teaspoon red pepper flakes
Directions
Place frozen meatballs in the insert of a slow cooker. In a bowl, stir to combine the remaining ingredients. Pour over meatballs and stir to coat. Cook on high setting for 2 to 3 hours.
Recipe courtesy of Sandra Lee
Can this get any easier?  ENJOY!!