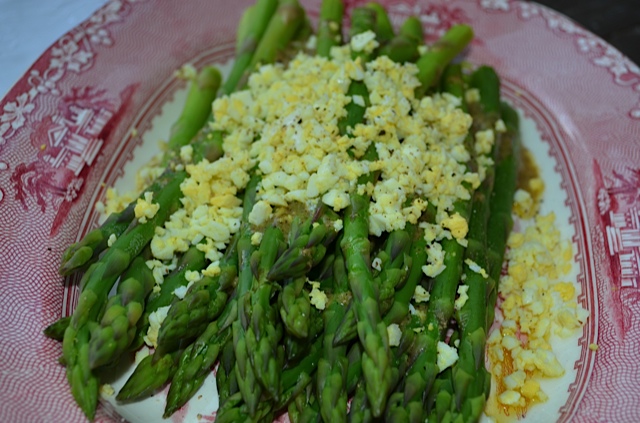 prepared by and photo by Emily S. Downs

A light Dijon mustard vinaigrette drizzled over crisp steamed asparagus is perfect as is; however, a little chopped hard-cooked egg delivers a pretty springtime color palette.

Size:

serves 6



Ingredients:
1 tbsp white-wine vinegar
2 tsp Dijon mustard
1/2 tsp coarse salt
1/4 tsp freshly ground pepper
3 tbsp extra-virgin olive oil
1 large hard-boiled egg
2 lbs asparagus



Directions:




In a small bowl, whisk together white-wine vinegar, mustard, salt and pepper.  Slowly whisk in extra-virgin olive oil.  Set aside.
Push hard-boiled egg through a fine sieve, or finely chop, and set aside.
Steam asparagus.
Place asparagus on serving plate and spoon vinaigrette over spears.  Top with the grated egg.