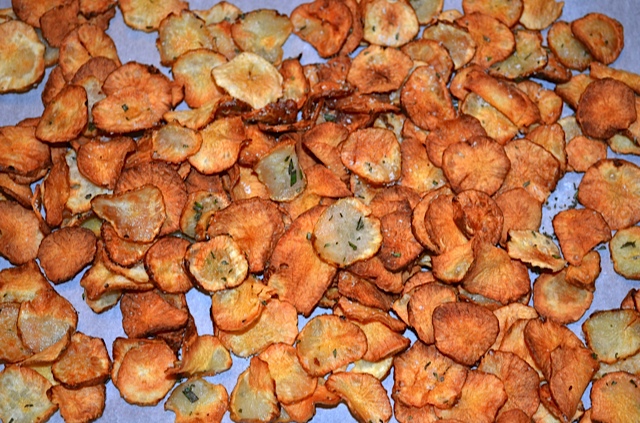 prepared by and photo by Emily Doscher

Sure, potato chips are perfect, but sunchokes (Jerusalem artichokes) are higher in potassium and iron.  These tubers are a variety of sunflower; sold in the produce sections of some supermarkets and at farmers' markets.  BTW… these don't take long to make.

Size:

8 servings



Ingredients:
2 lbs unpeeled sunchokes (available at Whole Foods)
Vegetable oil (for frying)
1 tbsp salt
1 1/22 tsp minced fresh rosemary



Directions:




Fill large bowl with cold water.  Slice sunchokes into thin rounds (about 1/16″ thick), using a mandoline (if available).  Immediately drop rounds into bowl of water to prevent browning.  Rinse and drain 3 times.  Pat bery dry with paper towels.

Pour enough oil into large deep skillet to reach depth of 1/2″.  Submerge bulb of deep-fry thermometer into oil; lean top of thermometer against skillet rim.  Heat oil to 375F.  mix 1 tbsp salt and rosemary in small bowl.  Using fingertips, blend well, rubbing salt and rosemary together.

Working in batches, fry sunchoke slices until golden brown, stirring occasionally, 3-4 minutes.  Using skimmer, transfer chips to paper towels to drain.  Sprinkle chips with some rosemary salt.  (Chips can be made 2 hours ahead.  Let stand at room temperature.)  Mound chips in bowl and serve.