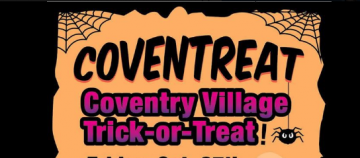 Friday, October 27th  •  5:30 – 7:30 PM 
Join us for candy, treats, and Halloween crafts from your favorite Coventry Village shops & spots.
More info: www.coventryvillage.org
Look for the official "CovenTREAT stop" signs posted at participating Coventry Village locations.
Activities & Specials:
5:30 – 7:30: Candy & Treats all throughout the business district
5:30 – 7:00 Halloween Origami for Kids at Mac's Backs-Books On Coventry. Artist, Lisa Cheng will show kids how to make an easy black cat or witch's hat origami.
5:30 – 7:30 Stop by Chipotle Mexican Grill in Coventry Village. All kids in costume will receive a Free Kids Meal Card.
Please note: All children must be in costume and accompanied by an adult.