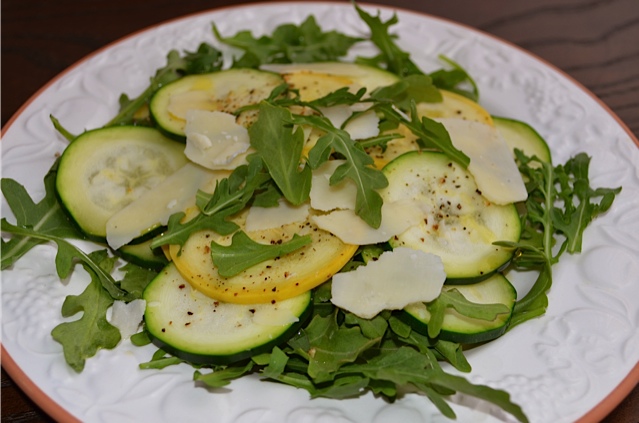 prepared by and photo by Emily S. Downs

Zucchini and squash so thinly sliced we're calling it carpaccio.  A vegetarian's dream dish.

Size:

serves 6



Ingredients:
1 medium zucchini
1 medium yellow squash
4 oz baby arugula (or watercress)
6 tbsp extra-virgin olive oil
Juice of 2 lemons
Sea slat flakes & freshly ground pepper
2 oz Parmesan cheese, shaved



Directions:




Prepare an ice-water bath; set aside.  Bring a large pot of water to a boil.  Add zucchini and squash (do not have sliced yet), and cook 2 minutes.  Plunge zucchini and squash into the ice-water bath to stop the cooking, and let cool completely.

Arrange watercress on a platter, reserving some for garnish.  Drizzle with about half the oil and lemon juice.

Using a mandoline or a box grater, very thinly slice zucchini into rounds.  Arrange over watercress.  Drizzle with remaining oil and lemon juice.  Season with salt and pepper.  Top with Parmesan, and garnish with reserved watercress.