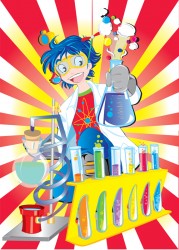 Saturday, February  27  •  9:00am – 1:30pm
A joint project of the Ridgewood Board of Education and the Super Science Saturday Volunteer Committee, Super Science Saturday brings science lovers together for a day of fun and learning for all ages. Through interactive exhibits such as a wheelchair maze, live animals, and demonstrations of chocolate making to more complex brain wiring demonstrations, Super Science Saturday will satisfy the scientific appetite of everyone! Events include the Thomas Edison Interactive Performance, The Great Paper Airplane Contest, and Live Rocket Launches.
Super Science Saturday was started in 1989 by Mr. Jim Wallace, a sixth grade science teacher at Ridgewood's Benjamin Franklin Middle School. What began solely as a science day for students has evolved into a broad experience for children, adults, and families from all over the tri-state area. Now in its 28th year, Super Science Saturday is an annual, half-day, non-competitive event providing a showcase for the variety of scientific explorations and applications that are alive in our community. Not only do professional science presenters share their work, it is unique in that students present alongside them, learning from adult presenters as mentors and peers. Though Mr. Wallace has since retired from the Ridgewood Public Schools, his small idea has grown to a day that brings over 1,500 area residents together to celebrate science.
Need project ideas? We have a few: Science Fair Projects.
Ridgewood High School, 627 East Ridgewood Ave, Ridgewood, NJ.
For more information or to participate or volunteer, visit www.supersciencesaturday.org
Super Science Saturday is sponsored by Valley Health System and The Foundation.