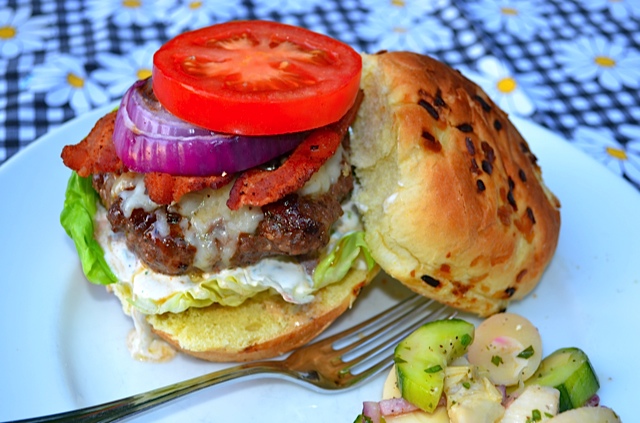 prepared by and photo by Emily Doscher

Yes… there is a long list of ingredients involved with these burgers.  BUT… the Spicy Ranch Sauce can be made ahead, as well as the burgers.  Also… don't be intimidated by the word coffee being associated with the word, burger… because these are by far one of the tastiest and juiciest burgers you'll ever sink your teeth into.

Size:

makes 8 servings



Ingredients:
SPICY RANCH SAUCE:
1 cup mayonnaise
1 cup sour cream
1/2 cup chopped fresh cilantro
6 tbsp fresh lime juice
4 green onions, finely chopped
2 tbsp minced seeded jalapeno chile
1/2 tsp cayenne pepper
BURGERS:
2 lbs ground beef
1 small onion, chopped (about 1 1/4 cups)
1/4 cup chopped fresh parsley
2 tbsp Worcestershire sauce
1 tbsp chopped seeded jalapeno chile
1 tsp salt
1 tsp ground black pepper
1/4 tsp cayenne pepper
WORCESTERSHIRE-COFFEE GLAZE:
1/3 cup light corn syrup
2 tbsp Worcestershire sauce
2 tbsp ketchup
1 tsp instant coffee crystals
2 tsp (packed) golden brown sugar
3 tbsp butter
OTHER INGREDIENTS:
16 bacon slices
Nonstick vegetable oil spray
8 hamburger buns or 3-4" square focaccia rolls, split horizontally
8 lettuce leaves
2 cups coarsely shredded sharp white cheddar cheese
Assorted additional toppings (such as tomato & grilled onion slices)



Directions:




FOR SPICY RANCH SAUCE:  Whisk all ingredients in medium bowl to blend.  Season sauce with salt and pepper.

FOR BURGERS:  Gently mix all ingredients in large bowl.  Form mixture into eight 1/2-3/4″ thick patties.  Place on small baking sheet.  Cover and chill at least 2 hours and up to 1 day.

FOR GLAZE:  Stir first 5 ingredients in small saucepan over medium heat until coffee is dissolved.  Remove from heat.  Whisk in butter.  Season glaze to taste with salt and pepper.

Prepare barbecue (medium-high heat).  Working in batches if necessary, cook bacon in large skillet over medium-high heat until crisp and brown.  Transfer bacon to paper towels to drain.

Spray grill rack with nonstick spray.  Toast buns until golden, about 2 minutes per side.  Transfer buns, cut side up, to plates.  Place lettuce on each bun bottom.  Frill burgers 5 minutes, basting with glaze.  Turn burgers, baste with glaze, and grill until cooked to desired doneness, about 5 minutes longer for medium.  Press cheese atop each burger and allow cheese to melt.  Place some sauce, then 1 burger on each bun bottom.  Top each with 2 slices bacon and desired additional toppings.  Cover with bun top.  Serve with remaining sauce.