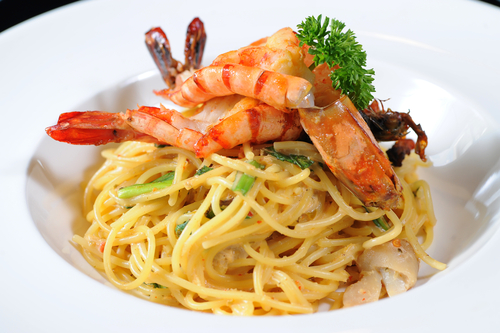 Despite shrimp scampi's simple assembly, it still has a classy edge to it. Maybe it's the wine, maybe it's the shrimp or maybe it's because you're using the French term, saute… Regardless, when you tell your guest you're having scampi, a slight smirk of approval is always the response.

Size:

serves 4



Ingredients:
1/4 cup olive oil
1 lb peeled and deveined large shrimp (raw; 20-25 per lb)
4 large garlic cloves, left unpeeled and forced through a garlic press (or finely minced)
1/2 tsp dried hot red-pepper flakes
1/2 cup dry white wine
1 tsp salt
1/2 tsp black pepper
5 tbsp unsalted butter
3/4 lb capellini (angel-hair pasta)
1/2 cup chopped fresh flat-leaf parsley



Directions:




Meanwhile, heat oil in a 12″ heavy skillet over moderately high heat until hot but not smoking, then saute shrimp, turning over once, until just cooked through, about 2 minutes, and transfer with a slotted spoon to a large bowl.  Add garlic to oil remaining in skillet along with red pepper flakes, wine, salt, and pepper and cook over high heat, stirring occasionally, 1 minute.  Add butter to skillet, stirring until melted and stir in shrimp.  Remove skillet from heat.

Cook pasta in boiling water until just tender, about 3 minutes.  Reserve 1 cup pasta-cooking water, then drain pasta in a colander.  Toss pasta well with shrimp mixture and parsley in large bowl, adding some of reserved cooking water in necessary to keep moist.