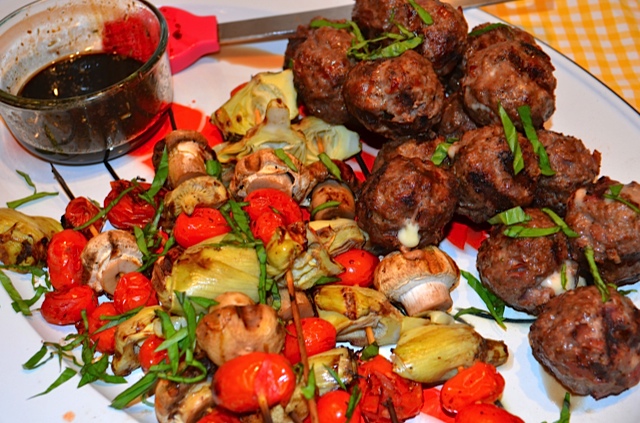 prepared by and photo by Emily S. Downs

Grilled meatballs stuffed with cheese?  Clever!  Accompanied with grilled vegetables, one of which is artichokes?  Genius!  Balsamic Glaze goes swimmingly with this combination, and so does a nice steamy bowl of rice.

Size:

8 servings



Ingredients:
MEATBALLS & KABOBS:
1 egg, lightly beaten
1/3 cup grated Parmesan cheese
2 cloves garlic, minced
1 tsp dried Italian seasoning
1 1/2 lb lean ground beef (80/20 fat)
2 oz thinly sliced prosciutto, chopped
16 1/2" fontina cheese cubes (1 1/2 oz)
8 canned artichoke hearts, drained and halved
1 6-8 oz pkg fresh cremini or button mushrooms*
1 pint grape tomatoes
1/2 tsp salt
1/8 teaspoon ground black pepper
Wooden skewers, soaked in water
Fresh basil slivers
BALSAMIC GLAZE:
1/3 cup balsamic vinegar
2 teaspoons olive oil
1 clove garlic, minced
1/4 teaspoon salt
1/4 teaspoon dried Italian seasoning
1/8 teaspoon black pepper



Directions:




Combine egg, Parmesan, garlic, Italian seasoning,  salt, and ground black pepper.  Add beef and prosciutto; mix well (do not over-mix, or meatballs will turn out tough) .  Divide in 16 portions, shape around cheese cubes.  Chill until ready to grill.

Thread artichokes, mushrooms*, and tomatoes, leaving a quarter inch between.  Keep covered until ready to grill.  Prepare balsamic glaze while meatballs and vegetables are grilling.

Preheat grill to medium and grease rack well.   Place meatballs and vegetable kabobs on rack and grill 10 to 12 minutes or until meat is no longer pink (160F), turning and brushing with half the glaze halfway through.  Vegetables may be finished cooking before meatballs.  To serve, drizzle with remaining glaze; sprinkle with fresh basil.

BALSAMIC GLAZE:  In small saucepan combine all six ingredients.  Bring to boiling; reduce heat.  Simmer, uncovered, 4 minutes or until reduced to about 1/4 cup.  Divide in half.

* to easily skewer mushrooms, pour boiling  water over them to soften; drain.