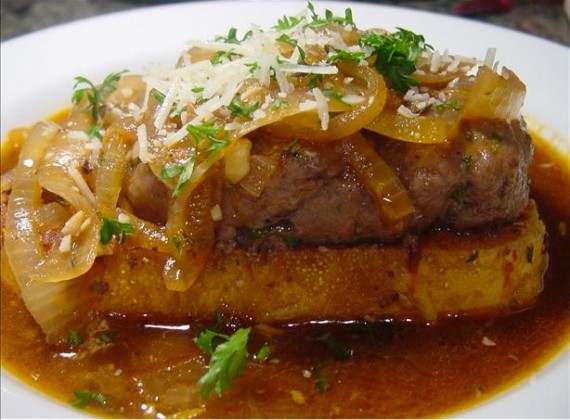 food.com (photo creds: Sharlene-W.)

A soothing winter's dish. It's an entree… it's a soup… to complete the meal, serve a Waldorf salad alongside.

Size:

4 steaks/servings



Ingredients:
1 1/4 cup ground beef chuck
1/4 cup fresh minced parsley
2 tbsp scallion, minced
1 tsp kosher salt
1/2 tsp black pepper
2 tbsp flour
1 tbsp olive oil
2 cups onions, thinly sliced
1 tsp sugar
1 tsp garlic, minced
1 tbsp tomato paste
2 cups beef broth (I use low-sodium)
1/4 cup dry red wine
3/4 tsp kosher salt
1/2 tsp dried thyme leaves
4 slices of cheese toast (I use cheesy Texas toast from the freezer section)
4 tsp fresh minced parsley (garnish)
4 tsp Parmesan cheese, shredded (garnish)



Directions:




Combine chuck, parsley, scallion, salt, and pepper. Divide evenly into 4 portions and shape each into 3/4-1″ thick oval patties. Place 2 tablespoons flour in a shallow dish; dredge each patty in flour. Reserve 1 teaspoon flour.

Heat 1 tablespoon oil in a saute pan over medium-high heat. Add patties and saute 3 minutes on each side, or until browned. Remove from pan. Add onions and sugar to pan; saute 5 minutes. Stir in garlic and tomato paste; saute 1 minute, or until paste begins to brown. Sprinkle onions with reserved flour; cook 1 minute. Stir in broth and wine, then add the salt and thyme.

Return meat to pan and bring soup to a boil. Reduce heat to medium-low, cover, and simmer 10 minutes.

Prepare Texas cheese toast according to package directions.

Serve steaks on cheese toasts with onion soup ladled over. Garnish with parsley and Parmesan.