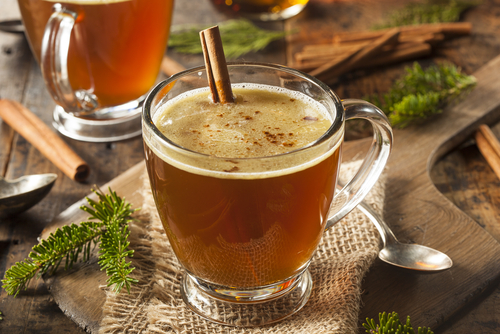 Save the hot chocolate for the kids. In my search for a delicious hot bev to sip during these next few frigid months, I thought this version sounded the best. And it is. Thanks to the Food Network for publishing it. Originally a Sun Valley, Idaho recipe via Rachael Ray.

Size:

4 servings



Ingredients:
2/3 cup packed dark brown sugar
1/2 cup (1 stick) unsalted butter, room temperature
1/4 cup honey
1/2 tsp ground cinnamon
1/4 tsp ground nutmeg
1/8 tsp ground cloves
Pinch salt
3/4 cup spiced rum
2 cups boiling water
4 sticks cinnamon, for garnish



Directions:




Using an electric mixer (I find hand held works best for this), beat the brown sugar, butter, honey, cinnamon, nutmeg, cloves, and salt in a medium bowl until blended and smooth. Transfer the mixture to a 4 cup (or larger) measuring cup. Add the rum and then 2 cups of boiling water. Stir until the butter mixture dissolves. Divide the buttered rum among 4 mugs. Garnish with the cinnamon sticks and serve.