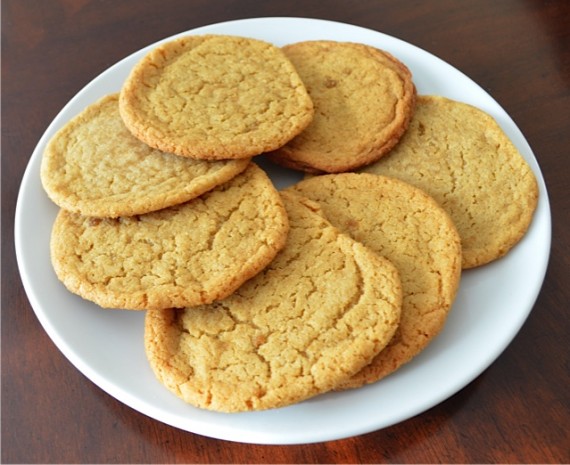 prepared by and photo by Emily S. Downs

Double up this recipe for a larger crowd, however, one cookie each is all everyone needs. Divine with a glass of milk and perfect to top off a savory meal. Equally superb simply because, for crying-out-loud… you want one!

Size:

14 to 16 cookies



Ingredients:
14 tbsp unsalted butter, melted
1 3/4 cup packed light brown sugar, divided
3/4 tsp salt
1 large egg
2 tsp vanilla extract
2 cups all-purpose flour
1 tsp baking powder
1/2 tsp baking soda



Directions:




Adjust two oven racks to upper and lower middle positions and preheat oven to 350F. Line two baking sheets with parchment paper.

Stir butter, 1 1/2 cups brown sugar, and salt in a large bowl until combined. Stir in egg and vanilla until combined. Add flour, baking powder, and baking soda to bowl and stir until combined.

Scoop 1/4 cup sized balls of dough onto baking sheets (7 to 8 per pan). Add remaining 1/4 cup brown sugar to now empty (unwashed) bowl. Roll each dough ball into sugar, return to pan, and press to about 1″ thick.

Bake until tops have puffed and cracked, and edges are golden, 9 to 11 minutes, rotating pans from top to bottom and front to back halfway through baking. Let cool on pans for 5 minutes, then transfer to wire rack to cool.