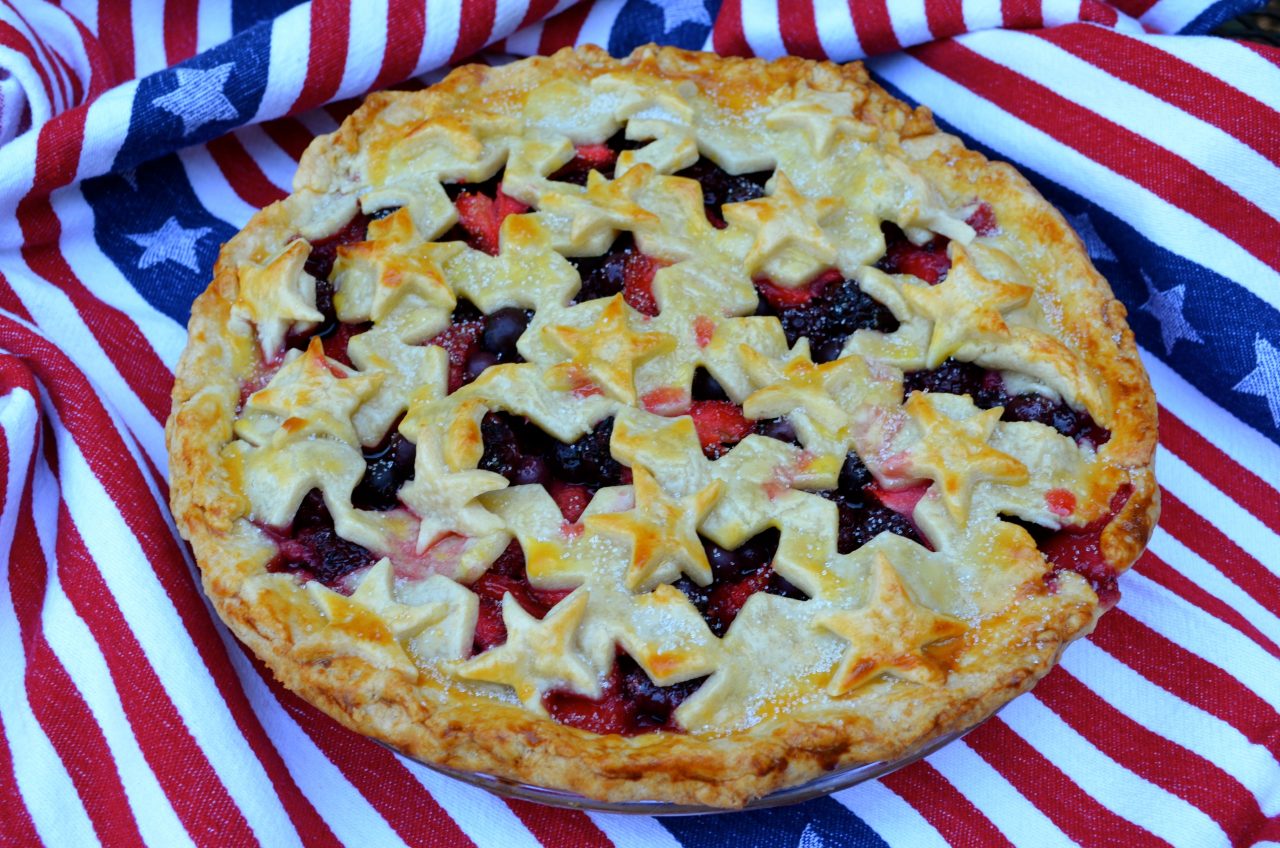 prepared by and photo by Emily S. Downs

Summertime guarantees fresh ripe berries, so why not throw them all into one delicious pie? Getting creative with the top crust is the fun part. Cookie cutters can help with that.

Size:

one 9" pie



Ingredients:
SHORT CRUST PASTRY (PATE BRISEE):
2 1/2 cups unbleached all-purpose flour
1 tsp salt
2 tbsp granulated white sugar
1 cup unsalted butter, chilled, and cut into 1" pieces
1/4 to 1/2 cup ice water
BERRY FILLING:
2 cups (1 pint) fresh blueberries
2 cups (1 pint) fresh blackberries
1 cup (1/2 pint) fresh strawberries, sliced
2/3 cup granulated white sugar (use a little more or a little less sugar depending on sweetness of berries)
3 tbsp cornstarch
1 tbsp lemon juice
1 tbsp lemon zest
1 tbsp cold unsalted butter, cut in small pieces
GLAZE:
2 large egg yolks
2 tbsp heavy cream
Sanding sugar/granulated white sugar, for sprinkling



Directions:




CRUST: In a food processor, place the flour, salt, and sugar and process until combined. Add the butter and process until the mixture resembles coarse meal. Pour 1/4 water in a slow, steady stream, through the feed tube until the dough just holds together when pinched. If necessary, add more water. Do not process more than 30 seconds.

Turn the dough onto your work surface and gather into a ball. Divide the dough in half, flattening each half into a disk, cover with plastic wrap, and refrigerate for about one hour before using. This will chill the butter and relax the gluten in the flour.

After the dough has chilled sufficiently, remove one portion of the dough from the fridge and place it on a lightly floured surface.  Roll the pastry into a 12″ circle. (To prevent the pastry from sticking to the counter and to ensure uniform thickness, keep lifting up and turning the pastry a quarter turn as you roll (always roll from the center of the pastry outwards).) Fold the dough in half and gently transfer to a 9″ pie pan. Brush off any excess flour and trim any overhanging pastry to an edge of 1/2″. Refrigerate the pastry, covered with plastic wrap, while you make the filling.

BERRY FILLING:  In a small bowl mix together the sugar, cornstarch, lemon juice and zest. Place the berries in a large bowl. Add the sugar mixture to the berries and gently toss to combine. Pour the mixture into the prepared pie shell and dot with the 1 tablespoon of butter.

ASSEMBLING PIE: Whisk together yolks and cream (egg wash). Remove the second round of pastry and roll it into a 13″ circle on lightly floured surface. Cut out stars and stripes using cookie cutters, a knife, or a pastry wheel and place aside. Lightly brush the rim of the pastry shell with egg wash. Place cut-out top pie crust over filling, pinching to bottom crust rim to close.  Decorate tops of pies with cutouts, brushing bottoms with egg wash to help them adhere. Freeze pie for 1 hour.

Preheat the oven to 375F and place the oven rack in the lower third of the oven. Put a parchment-lined baking sheet on the oven rack. (The pie plate will be placed on the hot baking sheet to catch any spills.) Brush top of pie with egg wash, and sprinkle with sanding sugar.

Bake until juices are bubbling and tops are golden brown, for about 1 hour and 20 minutes (tent with foil after 1 hour to prevent crust from getting too dark). Let cool for several hours before serving.

Store any leftovers covered at room temperature.