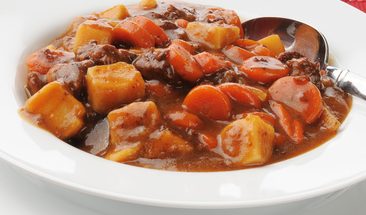 This is a quick, easy, affordable, low fat and high protein dinner. It took me only 25 minutes to peel, sauté and throw everything in the crock pot. I then left for the day and came home to a delicious dinner.

Size:

4 servings



Ingredients:
1 pound of beef round cut into 1 1/2 inch chunks
3 tablespoons flour
4 tsp olive oil
1 onion, chopped
4 all purpose potatoes, peeled and cut into 1 inch chunks
2 large carrots, cut into 1 inch chunks
1 cup frozen peas
1/2 cup dry red wine
1/2 tsp dried thyme
1/4 tsp black pepper
1 cup canned diced tomatoes with juice
1 bay leaf
1 beef boul. cube
1 light beer-may need to add two tbsp flour to thicken it



Directions:




1. Toss together beef and flour in large bowl until coated evenly.
2. Heat oil in large nonstick skillet over medium heat. Add onion and cook, stirring, until softened, about 5 minutes. Transfer to 5 or 6 quart slow cooker.
3. Increase heat under skillet to medium-high. Add beef, in batches and cook until browned on all sides, about 10 minutes, transferring beef to slow cooker as it is browned.
4. Stir all remaining ingredients into slow cooker. Cover and cook until beef and veggies are tender, 4-5 hours on high or 8-10 hours on low. Discard bay leaf.