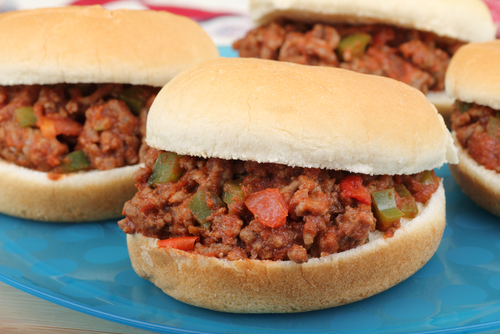 Sloppy Joe to me suggests a juicy, sloppy, spicy sweet satisfying sandwich. Slow-cooking is in session… a selection from my one of my favorite cookbooks: Better Homes and Gardens, The Ultimate Slow Cooker Book

Size:

8 servings



Ingredients:
1 1/2 lbs ground beef
1 cup chopped onion (1 large)
2 cloves garlic, minced
1 1/4 cups chopped red sweet pepper (1 large)
1 cup shredded carrots (2 medium)
1 4-oz can diced green chile peppers, undrained
1 5.5-oz can hot-style vegetable juice or vegetable juice
1/2 cup ketchup
1 tbsp packed brown sugar
1 tbsp yellow mustard
2 tsp chili powder
1 tsp cider vinegar
8 hamburger buns, split and toasted
Purchased deli coleslaw or George's Mother's Slaw



Directions:




In a large skillet cook ground beef, onion, and garlic over medium heat until meat is brown and onion is tender. Drain off fat.

In a 3 1/2 or 4 quart slow cooker combine meat mixture, red sweet pepper, carrots, chile peppers, vegetable juice, ketchup, brown sugar, mustard, chili powder, and vinegar.

Cover and cook on low-hear setting for 6 to 8 hours or on high-heat setting for 3 to 4 hours.

Serve meat mixture on toasted buns. If desired, top meat mixture with coleslaw (George's Mother's Slaw).