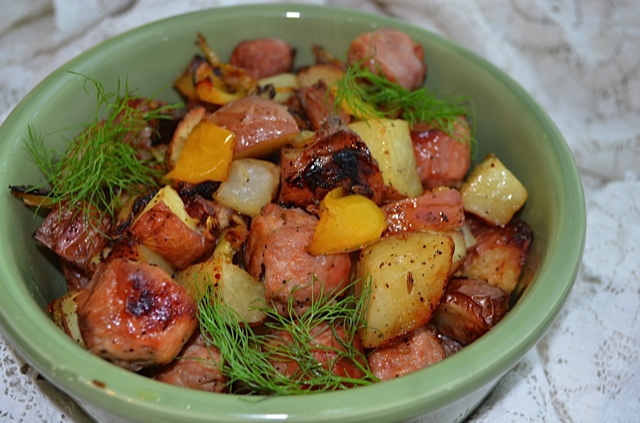 prepared by and photo by Emily S. Downs

I love to have this for brunch, or even lunch.  It's got tremendous flavor with so little ingredients.

Size:

6 servings



Ingredients:
1 3/4 lbs small red potatoes, cut into 1" pieces
2 large red bell peppers, seeded, cut into 1" pieces (or yellow peppers)
1 large fennel bulb, trimmed, cut into 1" pieces
1 tbsp olive oil
1 3/4 tsp fennel seeds, crushed in mortar with pestle
1 lb chicken or turkey sausage, cut into 1" pieces



Directions:




Preheat oven to 425F.  Combine first 5 ingredients in 2 large baking pans.  Mix to coat with oil.  Season with salt and generous amount of pepper.  Bake 20 minutes.  Divide sausages between pans and continue baking until potatoes are tender with crusty outsides and sausages are cooked through, about 30 minutes more.