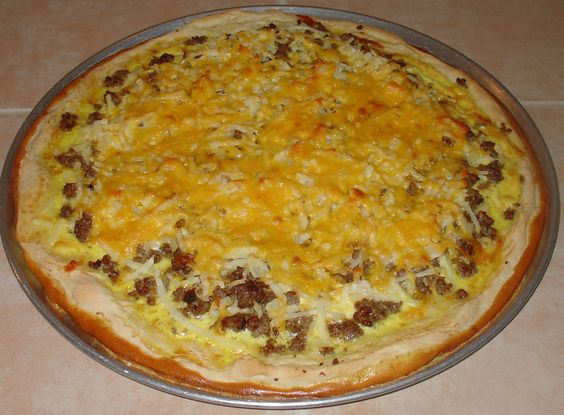 photo creds: hubpages.com

Mix up your eggs, bacon and toast routine by surprising the entire family with a breakfast pizza this weekend! Crescent rolls provide the crust and the usual suspects lay on top… eggs, cheese, sausage (or crumbled crispy bacon).  Super easy and who doesn't love a pizza!

Size:

serves 6-8



Ingredients:
1 lb bulk pork sausage
1 pkg (8) refrigerated crescent rolls
1 cup frozen loose-pack hash brown potatoes, thawed
1 cup shredded sharp Cheddar cheese
5 eggs
1/4 cup of milk
1/2 tsp salt
1/8 tsp pepper
2 tbsp grated Parmesan cheese



Directions:




Preheat oven to 375F.

Cook sausage* in skillet until browned.  Drain fat.

Separate crescent rolls into 8 triangles with points towards center of an un-greased pizza pan.  Press over bottom and sides to form a crust and seat perforations.

Spoon sausage over crust, sprinkle with potatoes and top with Cheddar cheese.  In bowl beat together eggs, milk, salt and pepper.  Pour into crust.  Sprinkle Parmesan cheese over pizza.  Bake for 25-30 minutes.

* Not a sausage fan? Try crumbled crispy bacon instead.