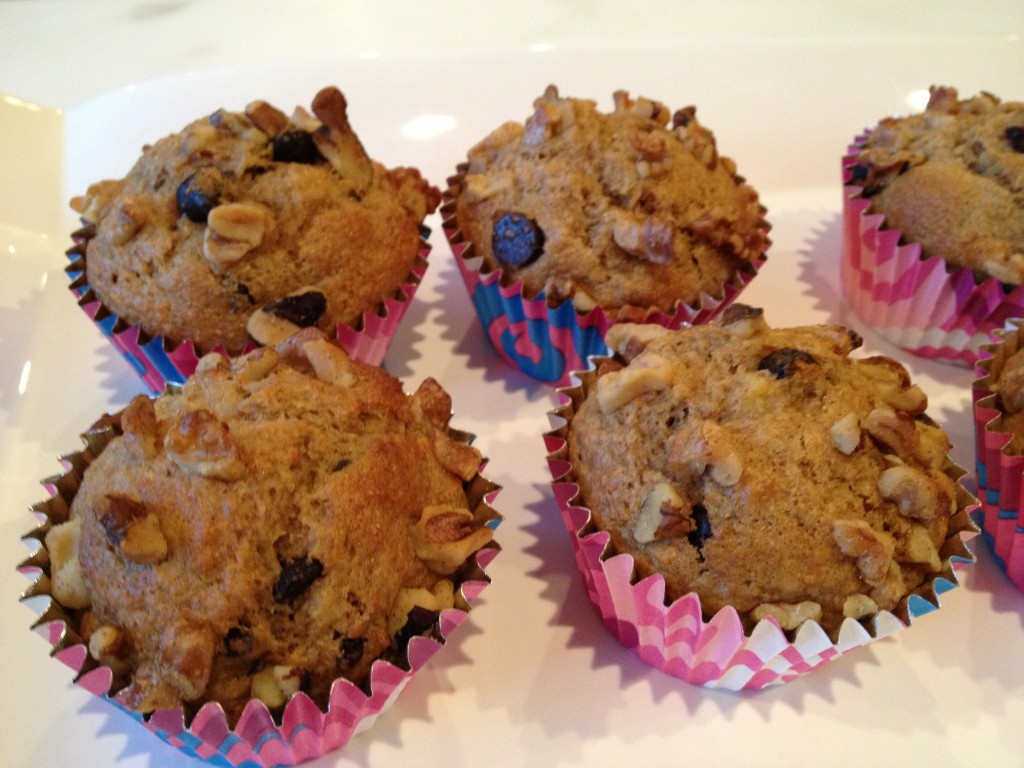 These are delicious and most kids won't notice that they are good for you. You can skip the nuts if your kids don't like them.

Size:

1 dozen



Ingredients:
2 large eggs
2/3 cup light brown sugar
2 mashed ripe bananas
1 cup buttermilk
1 cup of unprocessed wheat bran(do not sub bran cereal)
1/4 cup canola oil
1 tsp vanilla
1 cup whole wheat flour
3/4 cup all purpose flour
1 1/2 tsp baking powder
1/2 tsp baking soda
1/2 tsp cinnamon
1/4 tsp salt
1/2 cup dark choc. chips or walnuts optional



Directions:



Preheat oven to 400°F. Coat 12 muffin cups with cooking spray.
Whisk eggs and brown sugar in a medium bowl until smooth. Whisk in bananas, buttermilk, wheat bran, oil and vanilla.
Whisk whole-wheat flour, all-purpose flour, baking powder, baking soda, cinnamon and salt in a large bowl. Make a well in the dry ingredients; add the wet ingredients and stir with a rubber spatula until just combined. Stir in chocolate chips, if using. Scoop the batter into the prepared muffin cups (they'll be quite full). Sprinkle with walnuts, if using.
Bake the muffins until the tops are golden brown and spring back when touched lightly, 15 to 25 minutes. Let cool in the pan for 5 minutes. Loosen edges and turn muffins out onto a wire rack to cool slightly before serving.