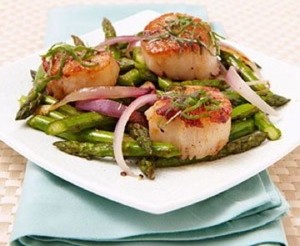 fitnessmagazine.com

Scallops are a super source for vitamin B12, which helps prevent heart disease, stroke and osteoporosis.  They also contain omega-3 fatty acids as well as magnesium and potassium, which benefits our cardiovascular systems. Besides… scallops are tender and delicious!

Size:

4 servings



Ingredients:
12 oz sea scallops, thawed if frozen
2 lemons
3 tbsp olive oil
1 lb asparagus spears, trimmed and cut into 2" pieces
1 medium red onion, cut into wedges
Salt, to taste
Black pepper, to taste
2 to 3 fresh basil sprigs, including stems
Garnish: 2 tbsp fresh basil leaves, cut into strips (optional)



Directions:




Rinse the scallops and pat fry. Set aside.

With a sharp knife, score one lemon lengthwise in four sections and remove the peel from each section. Scrape the white portion from the peel; discard. Cut the peel into very thin strips and set aside. Squeeze 2 tablespoons of juice from the tlemon; reserve.

Heat 1 tablespoon of the olive oil in a large skillet over medium heat. Add the asparagus and the onion and cook for 2 to 3 minutes; season with the salt and black pepper. Transfer to a serving platter and keep warm.

Combine the lemon peel, basil sprigs, and remaining 2 tablespoons of olive oil in the skillet. Cook for 1 minute or until heated through. Remove the lemon peel and basil sprigs with a slotted spoon, leaving the oil in the skillet, discard.

Cook the scallops in the hot oil for 3 to 5 minutes or until opaque, truning once.  Stir in the reserved lemon juice. Season to taste with salt and black pepper.

Place the scallops over the asparagus mixture. Cut the remaining lemon into wedges. Garnish the scallops with the wedges and, if desired, the fresh basil.