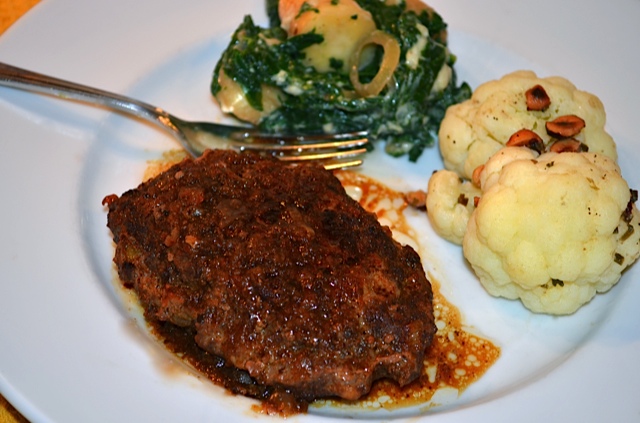 prepared by and photo by Emily Doscher

A photo doesn't do this meat patty justice.  It's intense in flavor and incredibly juicy.  The onion gravy is to Salisbury steak as whipped cream is to ice cream.   Just essential!   Goes lovely with a side of Creamed Spinach w/Parsnips as well as, Cauliflower w/Hazelnut & Brown Butter.

Size:

serves 6



Ingredients:
1/4 cup canola oil
1 large onion, grated (about 1 1/3 cups)
2 slices white bread
1/2 cup whole milk
2 lbs ground sirloin
2 garlic cloves, minced (1 1/4 tsp)
1 large egg
2 tbsp chopped flat-leaf parsley
2 tsp plus a dash of Worcestershire sauce
Coarse salt and freshly ground black pepper
1 tsp cornstarch, plus 1/4 cup for dusting
1 1/2 cups beef broth



Directions:




Heat a medium saute pan over medium heat.  Add 2 tablespoons oil and 1 cup onion. Reduce heat to medium-low, and cook, stirring occasionally, until onions are golden brown and caramelized, about 35 minutes.  Set aside.

Soak bread in milk, flipping once.  Finely chop.  Ina large bowl, combine the remaining 1/3 cup onions, the sirloin, garlic cloves, bread, egg, parsley, 2 teaspoons.  Worcestershire sauce, 2 teaspoons salt, and 1/4 teaspoon pepper.  Mix with your hands to combine.  Divide meat mixture into 6 oblong patties (about 5″ long and 3/4″ thick).  Dust with cornstarch.

Heat a large skillet over medium-high heat.  Add remaining oil, and reduce heat to medium.  Cook patties, 3 at a time, for 6 minutes, without moving  them.  Flip, and cook until cooked through, aobut 9 minutes.  Set aside on a plate.  Repeat with remaining patties.

Make the gravy: Add cooked onions and 1 teaspoon cornstarch to same skillet, and stir for 1 minute.  Raise heat to medium-high.  Pour in broth and a dash of Worcestershire sauce, and whisk until broth is clear and slightly thickened, about 3 minutes.  Remove pan from heat, and return patties and juices to skillet, spooning sauce on top.