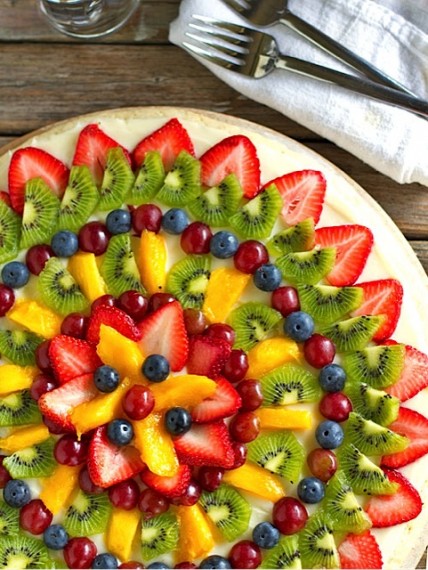 pinchofyum.com

Simple summer dessert using fresh seasonal fruits. Pinch of Yum's (Kristen) photo captures the idea but I've simplified the recipe by using prepared cookie dough rather than making it from scratch. Drizzled caramel sauce tops the entire pie, but feel free to omit… it works either way! Fudge sauce may also work… yum!

Size:

serves 8



Ingredients:
1 (18 oz) roll refrigerated sugar-cookie dough
1 (8 oz) package ceram cheese, room temperature
1 (7 oz) jar marshmallow creme
Sliced fruit (such as hulled strawberries, peeled kiwis, peeled bananas, peeled cored pineapple, blueberries, mango, grapes, raspberries)
Purchased caramel sauce, warmed (optional)



Directions:




Preheat oven to 350F. Butter and flour 12″ diameter pizza pan. Cut cookie dough roll crosswise into 1/3″ thick slices; arrange on prepared pan. Using wet fingertips, press dough evenly into pan to form pizza crust.

Bake crust until deep golden brown, about 15 minutes. Transfer to rack. Using edge of metal spatula, press in crust edges to form even round. Cool completely.

Beat cream cheese in medium bowl until smooth. Beat in marshmallow creme. Spread filling evenly over crust, leaving 1/2″ plain border. (Crust with filling can be made 45 minutes ahead. Let stand at room temperature. Any longer it gets soggy.) Top with fresh fruit in desired pattern; drizzle with warm caramel sauce if using. Cut into slices and serve.