These are bars are healthy and easy to make. It will give you your candy bar fix instead of eating the bad processed sugar candy. Even my kids like them.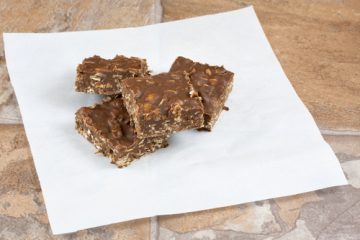 Size:

20 bars



Ingredients:
1 cup chunky peanut butter or almond butter unsweetened
½ cup coconut oil
½ cup honey
1-¼ cups dark chocolate - I buy 85% dark bars at Trader Joe's
2 cups rolled oats
1 cup unsweetened shredded coconut
¾ cup chopped pecans
2 tablespoons chia seeds
1 teaspoon pure vanilla extract
¼ cup unsweetened shredded coconut, toasted



Directions:



Line a 8-inch-by-8-inch baking dish with parchment paper, and set aside.
In a medium saucepan, combine the peanut butter, coconut oil, and honey. Heat the mixture over medium-low heat until melted.
Add the dark chocolate chips to the peanut butter mixture, and stir until melted.
Add the rolled oats, the 1 cup of shredded coconut, the chopped pecans, chia seeds and the vanilla extract. Stir until fully mixed.
Pour the mixture into the lined baking dish. Sprinkle with the ¼ cup of toasted coconut. I skip this part sometimes or just sprinkle unsweetened coconut.
Refrigerate for 3 to 4 hours, until firm.
Cut into 2-inch bars. Store in the refrigerator in an airtight container.