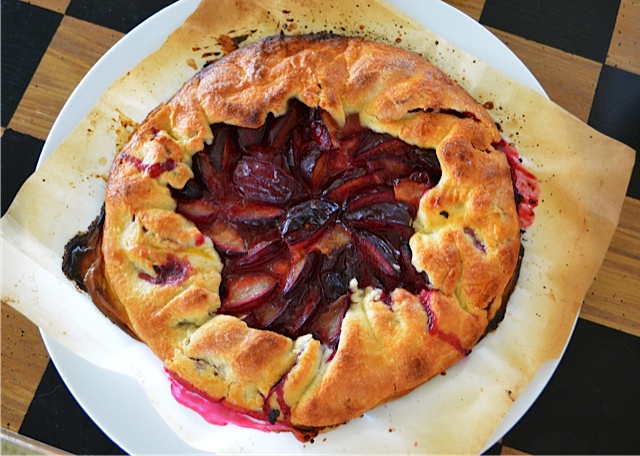 prepared by and photo by Emily S. Downs

I may have said it before, but I'm saying it again. I'm a big fan of free-form tart. The fact that it can look imperfect is perfect. And what's not to like about juicy sweet summer fruit served in it's own little dough plate? Creds go out to foodandwine.com August 2012.

Size:

6 servings



Ingredients:
1 1/4 cups all-purpose flour, plus more for dusting
1/2 cup sugar, plus more for sprinkling
1/4 tsp salt
1 stick cold unsalted butter, cubed and chilled
1/8-1/4 cup ice water
1 tbsp cornstarch
1/4 tsp ground cinnamon
1/4 finely grated orange zest
1 lb firm-but-not-ripe plums, pitted and cut into eighths
1 large egg yolk mixed with 1 tbsp of water



Directions:




In a food processor, add the 1 1/4 cups of flour, 2 tablespoons of sugar and the salt and pulse to combine. Add the butter and pulse until the mixture resembles coarse meal. Sprinkle on the ice water and pulse until the dough just barely comes together (may not use all of the water). Gather the dough and pat it into a disk. Wrap the dough in plastic and refrigerate until chilled, about 30 minutes. (Pastry disk can be refrigerated for up to 3 days.)

Preheat the oven to 425F and position a rack in the lower third. Line a baking sheet with parchment paper. Working on  slightly floured surface, roll out the disk of dough to a 12″ round; transfer to the baking sheet. Chill the dough until firm, 15 minutes.

Meanwhile, in a bowl, combine the remaining 1/4 cup plus 2 tablespoons of sugar with the cornstarch, cinnamon and orange zest. Add the plums and toss well. Let stand, stirring occasionally, until the sugar is mostly dissolved, about 15 minutes.

Arrange the fruit in the center of the dough, leaving a 1 1/2″ border all around. Fold the edge of the dough up and over the plums. Brush the rim with the egg wash and sprinkle with sugar.

Bake the plum crostata for about 50 minutes, until the crust is golden and the fruit is tender and bubbling. Let the crostata cool on the baking sheet for 30 minutes, then cut into wedges and serve.