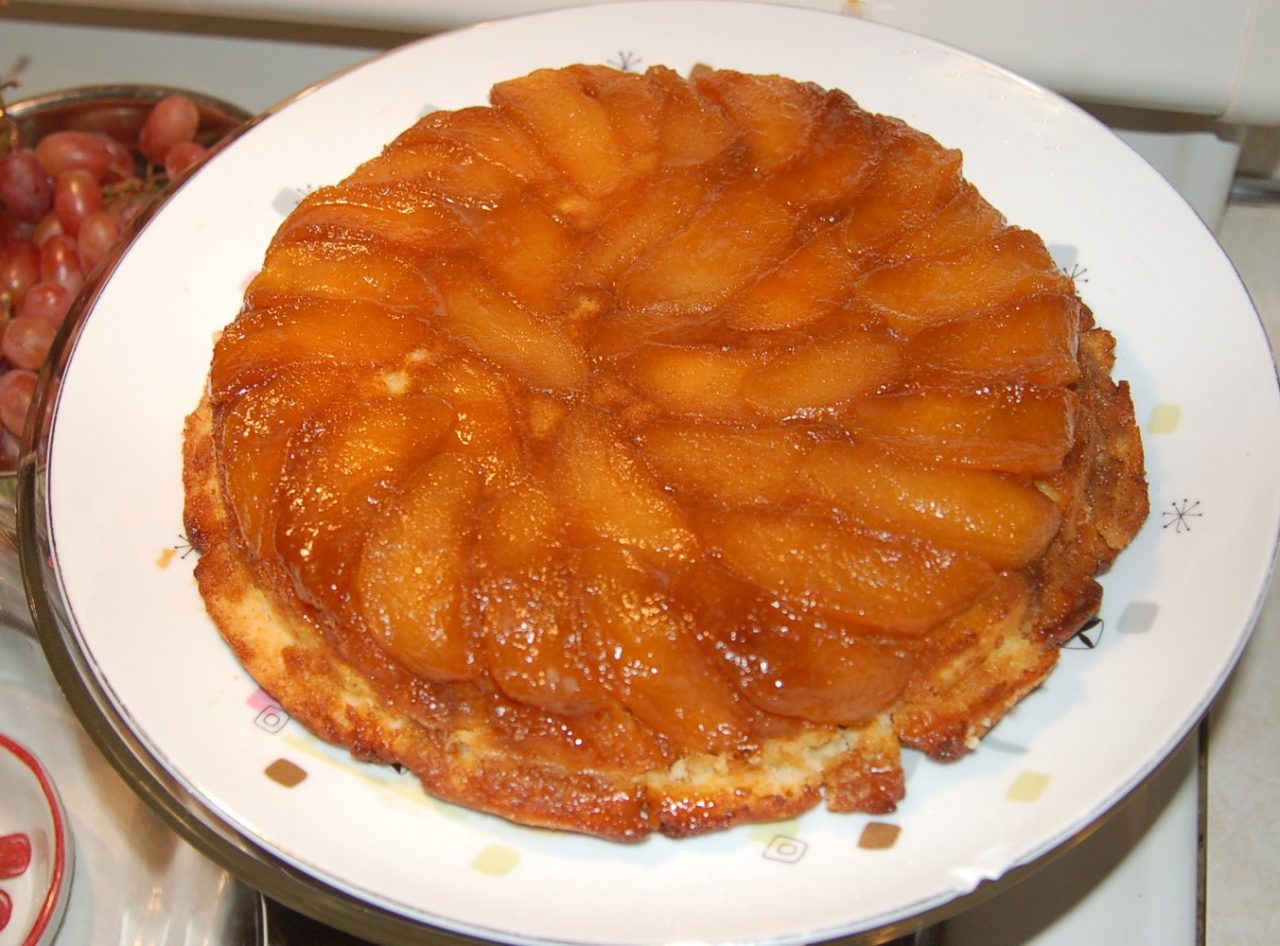 prepared and photographed by Emily S. Downs

Warm, gooey sweet apple cake.  Does this not just scream divine?  It's like a caramel apple exploded onto a vanilla cake.

Size:

8 servings



Ingredients:
CAKE:
1 1/2 cups all purpose flour
1 1/2 tsp baking powder
3/4 tsp salt
1/2 cup (1 stick) unsalted butter, room temperature
2/3 cup baker's sugar (superfine sugar) or regular sugar
2 large eggs
1 1/2 tsp vanilla extract
1/2 cup sour cream
1/2 Golden Delicious apple, peeled, cored, finely chopped (about 3/4 cup)
BUTTERSCOTCH-CARAMEL APPLES:
6 tbsp (3/4 stick) unsalted butter
1/3 cup (packed) dark brown sugar
1/3 cup butterscotch morsels
2 8 oz Golden Delicious apples, peeled, halved, cored, cut into 1/4" thick slices



Directions:




FOR CAKE:  Preheat oven to 375F.  Mix flour, baking powder, and salt in medium bowl.  Using electric mixer, beat butter in large bowl until smooth.  Gradually add sugar and beat until well blended.  Add eggs and vanilla; beat until blended.  Beat in flour mixture, then sour cream.  stir in chopped apple.  Set aside while preparing butterscotch-caramel apples.

FOR BUTTERSCOTCH-CARAMEL APPLES:  Melt butter in 10″ diameter nonstick oven-proof skillet over medium heat.  Add brown sugar and butterscotch morsels; stir until melted and smooth and mixture is bubbling, about 2 minutes.  Add apple slices to skillet and cook until golden brown, using tongs to turn slices, about 3 minutes per side (there will be a lot of liquid in skillet).  Remove skillet from heat and let cool 3 minutes.  Using tongs, arrange apple slices in skillet in concentric circles or pattern of your choice.

Carefully spoon cake batter in small dollops atop apples in skillet.  Using offset spatula, gently spread batter evenly to edges of skillet (batter will seem to float on top of apples and pan juices).  Bake until cake is golden brown and tester inserted into center comes out clean about 30 minutes.  Cool in skillet 10 minutes.  Run knife around edges of cake to loosen.  Place large platter atop skillet.  Using oven mitts or pot holders, hold platter and skillet firmly together and invert, allowing cake to settle onto platter.  Serve cake warm.