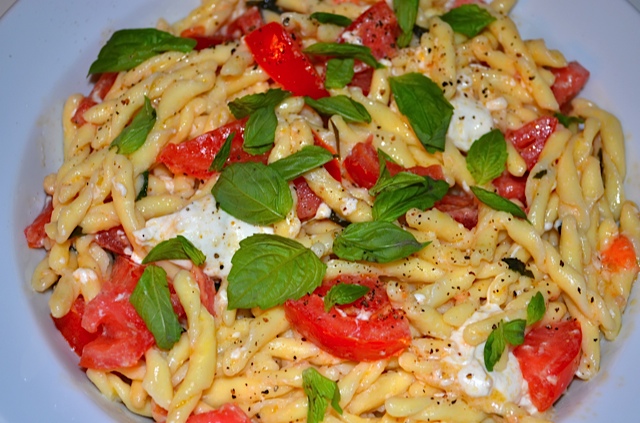 prepared by and photo by Emily S. Downs

Take advantage of the juicy ripe Jersey tomatoes offered this time of the year.  This pasta dish is super simple to prepare.  Fairway Market had all of the ingredients to bring a little taste of Italy into my home.

Size:

serves 4



Ingredients:
1/4 cup extra-virgin olive oil
3 garlic cloves, thinly sliced
1/2 tsp coarse salt
1/2 tsp freshly ground pepper
1 lb cooked and drained short pasta (I used Dal Raccolto's Strozzapreti, I purchased at Fairway Market)
4 medium tomatoes, torn (or cut-up in and slightly smashed)
1 lb burrata cheese (or mozzarella cheese), torn in pieces (burrata cheese can be purchased at Fairway Market)
Small basil leaves, or chopped basil leaves for garnish
Cracked pepper to garnish



Directions:




Combine olive oil, garlic clove slices, salt and pepper in  a large bowl.  Leave sit for 30 minutes.  Remove garlic slices and discard.  Toss in cooked pasta and torn tomatoes and gently mix until  combined.  Scatter torn burrata (or mozzarella) cheese over pasta.  Garnish with basil and cracked pepper.