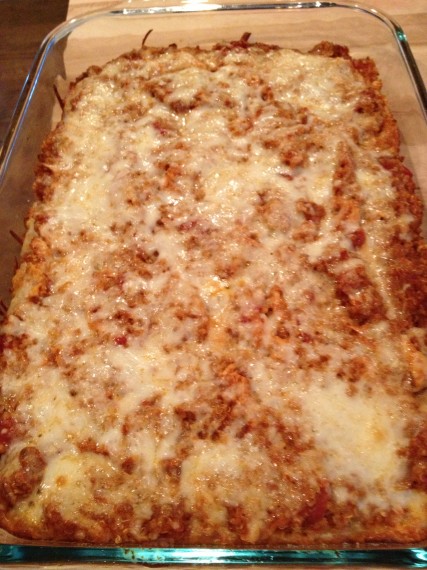 I am posting this recipe because all my friends have been asking me for it and they think I don't want to share it. I always share my recipes. God didn't put us on this earth to be selfish. I never understand when someone tells me they can't share the recipe because it is a family secret. I came across this recipe when I was looking for something a little healthier to make for dinner. It is also gluten free and that works well when you have to make dinner for someone in that situation. The quinoa is a substitute for the pasta. As I was making it I had some skeptics but once they tasted it, they loved it.

Size:

6



Ingredients:
1 rotisserie chicken-shred the meat off it and set aside
1 tbsp olive oil
1 medium onion diced
3 cloves garlic minced-I use the Dorat frozen cubes and I put in three of them
2 tbsp balsamic vinegar
1 15oz. can of tomato sauce
1 15oz can of diced tomatoes no salt added
1/4 tsp red peper flakes
basil and oregano to taste(around a 1/4 cup total)-once again I use the Dorat frozen cubes and use about two each
1 cup quinoa uncooked
2 cups water
1 cup of shredded mozz. cheese-I use a little more
parmesan cheese



Directions:




Preheat the oven to 375. Spray a large baking dish with olive oil spray.

To make the sauce, heat a large skillet over medium heat, and add the oil. Stir in the onion and cook, stirring frequently, until tender, 5-7 minutes. Add the garlic and cook until fragrant, 30-60 seconds. Add the balsamic vinegar, scraping anything off the bottom of the pan, and cook until it's almost fully absorbed. Add the tomato sauce, diced tomatoes, red pepper flakes, basil, oregano, and pepper to taste. Bring to a low boil, and then simmer while you prepare the rest of the meal.

Place the quinoa in a mesh strainer, and rinse with cold water for about 1-2 minutes.

Add the quinoa and water (and a dash of salt) to a sauce pan and bring to a boil. Cover with a lid, reduce the heat, and simmer until cooked, about 20-25 minutes.

In a large bowl, combine the cooked quinoa and chicken with the sauce and mix thoroughly.

Place half the mixture in the baking dish, and sprinkle with 1/2 cup of the mozzarella cheese. Top with the remaining quinoa mixture. Sprinkle with the remaining mozzarella cheese, and the parmigiano/pecorino. Add the breadcrumbs.

Cover with foil and bake for about 15 minutes. Remove foil and continue to bake until cheese is lightly browned and bubbly, about 10 more minutes.